All the reasons you need to get involved in MIF this year
Manchester plays host to so many incredible festivals, theatre shows, art exhibitions and musicians all year round but there's just one place you're guaranteed to see all...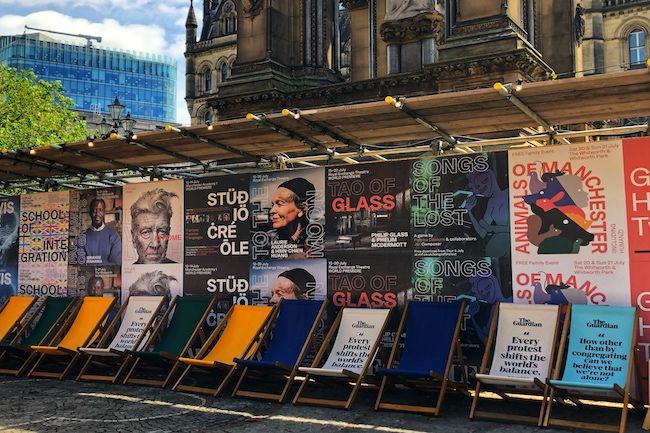 MIF in full swing
Manchester plays host to so many incredible festivals, theatre shows, art exhibitions and musicians all year round but there's just one place you're guaranteed to see all of these combined: Manchester International Festival.
MIF has once again taken over the city, running until the 21st July. We've been out and about since it launched on Thursday, immersing ourselves in the mass of culture, fashion, music, art and production that the festival is renowned for.
The 18-day epic festival launched last week in the most iconic way possible; the ringing of thousands of bells of peace in Cathedral Gardens led by the one and only, contemporary artist Yoko Ono. "Ring for peace! Peace is power! I love you all" – Yoko Ono. If you missed it, catch it here.
If that wasn't enough for the first day, Manchester was treated to an incredible one-off show by Grammy-nominated singer, songwriter, producer and actress Janelle Monáe, who filled the sun-soaked arena at Castlefield Bowl with energy, amazing outfits and even touched on politics. A unique performance by a bold woman of many talents and one that will be remembered or years to come.
Our MIF antics
We were lucky enough to be one of the first to see the exceptional theatre performance Tree. A mixture of astounding drama, music and dance produced by Idris Elba and Kwame Kwei-Armah. We were bowled away by the storyline and loved how much the cast and production team got the audience involved. If you don't have tickets yet, what are you playing at?
Later, we hit up Mayfield Depot to be amazed by the world premiere of Invisible Cities. An inspired new take on the 1972 classic alternate worlds tale with a very 21st century spin. This show harnesses projection mapping alongside architectural design, music, theatre and choreography. All compiled by the uber talented teams at 59 Productions and Rambert. A show that is not to be missed…
David Lynch takeover
The iconic feature of this year's MIF is the David Lynch take over at HOME. You'll be surrounded by performances, displays and screenings in every corner. This immersive exhibition is an array of arts, music, rare short films and more, providing a unique opportunity to explore the world of the pioneering American artist, musician and director, including, David Lynch's first major UK exhibition of paintings, drawings and sculptures, titled 'My Head is Disconnected'. Limited edition prints, unseen on such a scale in Britain before, are on display – we're definitely heading here next!
Music scene
Mercury Prize-winning Grime artist Skepta also has a live set, DYSTOPIA987. It is sold out (sad face), but we'll be watching through the eyes of social media and cannot wait. It will take place at a secret location somewhere in Manchester.
Other standout music comes from the legend that is Mary Ann Hobbs. She's bringing together five of the most exciting and ground-breaking electronic artists right now, for an evening of pioneering sound and breath-taking visuals. You'll spot us at the front of 'Queens of the Electronic Underground' on Saturday 20th July, busting a move to the iconic female artists Jlin, Holly Herndon, Aïsha Devi ft MFO, Klara Lewis, Katie Gatley and the 6 Music legend herself, Mary Ann Hobbs
Food scene
One part you can't fail to miss and where we've been spending our lunch times since it opened last Thursday is the foodie paradise in Festival Square at Albert Square. Once again, it's been transformed into THE food and drink destination. So far, July has been kind to us, the weather has been very much on our side… we've basked in the sunshine on the MIF loungers, enjoyed the free live music, DJ sets with amazing food and drink. Everything from British classics to Indian street food. You'll find us queuing for a slice of the action at the Honest Crust pop up. It's definitely one of our favourites from food hall heaven and neighbour Mackie Mayor.
Get involved
John McGrath, MIF artistic director and chief executive, recently told the M.E.N.: "At MIF19 we see a whole host of artists looking to the future - some with hope, some with imagination and some with concern. We never impose themes on the artists we work with, but it's striking how this year's programme reflects our complicated times in often surprisingly joyous and unexpected ways. Featuring artists from more than 20 countries, the Festival also has strong local roots, with several commissions featuring the people of Manchester as participants. MIF19 will be a feast of energy, which I hope will inspire debate and delight for the festival's 18 days and far beyond."
MIF has always catered to every taste and this year is no different. There's something for every person to take in and take away. So, make sure you get yourself into the city and involved this month.