Bespoke art pieces created by Adam Ellis Studio
It's all in the design. The team at Adam Ellis Studio created the pieces of art throughout Moda, Angel Gardens... Art your eyes want to see.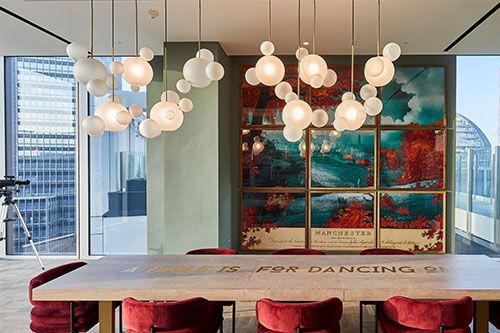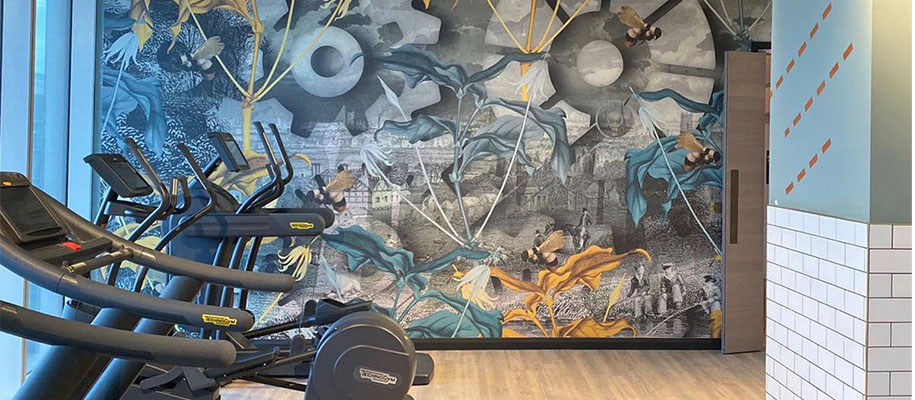 It's all about the artwork
Adam Ellis Studio, the artist and curator behind The Ivy's stunning artwork created the bespoke wallpaper and the works of art that run through Moda, Angel Gardens. Top to bottom.
If you haven't seen the stunning interiors of The Ivy Manchester...
One - where have you been?
Two - you need to Insta that sh*t, after reading this, of course.
About Adam
Since graduating from The Slade School of Fine Art, Adam's work has developed through both traditional and digital media resulting in the founding of Adam Ellis Studio in 2005.
Specialising in the creation of unique and vibrant works for residential and commercial spaces. Works by Adam Ellis Studio can be seen in notable hotels, restaurants and office spaces around the world. These include selected Ivy restaurants, Annabel's Mayfair, Harry's club and The Botanist in Chelsea, to name just a few.
The Moda, Angel Gardens family live amongst Ellis' signature artwork with bespoke pieces featured throughout the building. Pretty chic, like your own little gallery.
About the art
With state-of-the-art amenities, interior designed apartments by celebrity designer and TV personality Naomi Cleaver. We had to have top notch wallpaper and artwork to match.
We worked closely with the Adam Ellis Studio team to create standout, unique and simple stunning pieces for the apartments and communal spaces.
Peter Sproule, Moda Design Director, is a vivid Ivy visitor. Some could say, an Ivy enthusiast. We caught up with him, (not in The Ivy wink) to get some deets on the collaboration.
The brief... "represent Manchester's transformation and re-birth as a vibrant city of culture and economic prosperity from it's industrial past."
"Taking inspiration from the local landscape, our art collection blends the city's industrial heritage with bold graphics and colours." - Adam Ellis Studio.
**Nailed it. **
We couldn't possibly choose a fave. The artwork in the private dining room, the wallpaper in the gym, or the unique graphics that grace the walls of the neighbourhood. We 'heart' them all. Adding personality and another Instagrammable factor to the place we call home.
Pete can't choose either, but says the private dining room artwork and gym are definitely a firm fave.
"The background of the gym wallpaper is a historic image of Manchester. The cogs represent Manchester's industrial past as a powerhouse of the industrial revolution and the bees as the symbol of Manchester during this time, aka the busy bees of Manchester. The flowers then represent the city's growth and regeneration and the colours tie in with the overall gym design and finishes." yes, this much thought goes into art