Can living here make you healthier?
Moda, Angel Gardens could just be the healthiest place in Manchester to live – no, that doesn't mean we're all sat here drinking green juice...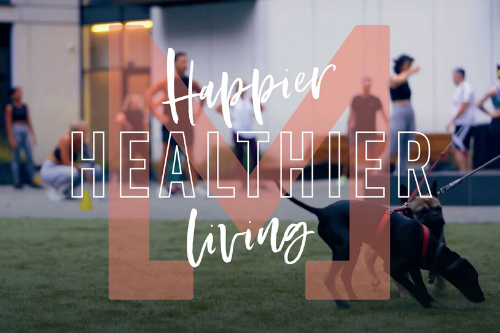 Workout and wind down
We're dedicating a whole week to wellbeing at Moda, Angel Gardens.
Whatever your vibe, be it a green juice to start the day or unwinding at the end of a busy week with a drink and good music – Wellbeing Week will have your mind, body and soul feeling great. From Yoga sessions on the rooftop to random acts of kindness throughout the week, a football tournament and a Feel-Good Friday party; there'll be workouts, social events, tasty pop ups and new classes to try.
Running from 26th - 30th May, tickets will be available from 10th May. Keep your eyes peeled for a full schedule coming soon.
Moda, Angel Gardens could just be the healthiest place in Manchester to live – no, that doesn't mean we're all sat here drinking green juice and doing a group sun salutation, we just take wellbeing seriously!
First things first, what do we mean by wellbeing? Quite simply, balance, health, atmosphere, connections, and good vibes! We try to make this easy for our residents with services, events, standards, and extras that put wellbeing at the forefront of the Moda life. Let us tell you a little more….
Enjoy free health checks
From body fat to hydrations levels, our friends at Hero will give you a full complimentary health check with regular check ins to help keep you on track with your goals.
Wellness workshops
Take part in a monthly free wellness workshop, available to all residents. So far this year we've danced, stretched, run and talked, up next we have a full week of wellbeing activity planned.
Choose from seven workout spaces
Workout with a view in the free of charge resident's gym on the 7th floor which is fully equipped with cardio and free weights equipment or head outside and train in the fresh Manchester air on the rooftop terrace. If you fancy a group session then Hero, located on the ground floor, is the health and wellbeing club for you with four studio spaces and training disciplines - Athletic, Cardio, Rejuvenate and Stronger. If it's privacy you're after then simply download Les Mills on Demand using your MyModa app and workout in your own apartment.
Play 5-aside football on your roof!
Moda, Angel Gardens is the only building in Manchester with a sports pitch on the roof. With panoramic views over Manchester, you can play as and when you want or pay to book out privately and rent out short tennis and 5-aside football.
Recover like a pro
Forget stretching or a hot bath, at Moda, Angel Gardens you can recover from your workouts like a pro with Hero Wellbeing's Cryochamber. After a few minutes at sub-zero temperatures, oxygenated, nutrient enriched blood that has been flushed of toxins, returns to the body's muscles, joints, and skin, providing a host of benefits to both your muscles and mind.
**Your own healthy restaurant **
Meal prep goes to a new level at Moda. Hire their private dining room and they'll book you your own chef to cook up a healthy feast for you and your guests. Resident coffee shop Pot Kettle Black will be creating their own bespoke menu for the dining room meaning you can now enjoy the city's best brunch in your PJs. Or, if you're after something a little less extravagant, Hero's food partner, Balanced Meals, will deliver freshly prepared meals right to your front door.
Enjoy a silent night
Did you know that just an extra 60 minutes of undisturbed sleep has been proven to make you happier and healthier? Residents tell us that once you close your windows you can't hear a peep from outside and there's no need to worry about noisy neighbours with walls that are 5 decibels above building regulations. On top of this, they also have 1,000 pocket sprung mattresses made from 100% natural materials, anti-bacterial, microbial and fungal. Sweet dreams indeed!
No more loneliness
61% of people that rent feel lonely – not at Moda. With a series of everts from wellbeing workshops to cinema screenings, educational talks to pizza parties, our calendar of resident events will give everyone in the building a chance to mix and mingle on a weekly basis.
Put your mental health first
Not only have we trained all on site team members in metal health first aid, we work with specially selected partners to enhance this offering. With a pipeline of workshops and events from the pros you'll have all the help and support you need to live a healthy lifestyle.
Want to move in and live the Moda life? You can find our more here.