Chinese New Year events not to be missed
2019 the year of the Pig. The pig being the twelfth of all the Chinese zodiac animals, energetic and enthusiastic. Not pigging out or overindulging, but symbolises luck, ...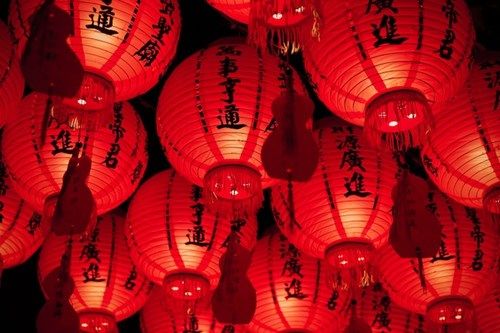 2019 the year of the Pig. The pig being the twelfth of all the Chinese zodiac animals, energetic and enthusiastic. Nothing to do with pigging out or overindulgence. A symbol of wealth and good fortune, it symbolises luck, hard work, humour and trust.
Chinese New Year is celebrated all around the world, the most important holiday for Chinese people. Manchester, Liverpool and Leeds have events, so you can have a weekend full of fun and fortune. Bringing colour and warmth to the cold winter days of February, slurping on noodles and enjoying dumplings from street food markets. Each city will be decorated with signature red lanterns and buildings lit up red.
This little piggy went to…
MANCHESTER
Thousands of red lanterns will brighten the city and iconic buildings including Manchester Town Hall, Selfridges and Harvey Nichols will be lit up red. This year's festivities will see the popular return of the giant Golden Dragon which will take centre stage in St Ann's Square. A new addition to the square this year is a giant straw Piglet sculpture by international artist Alex Rinsler.
The unmissable Dragon parade on Sunday 10th starts from Albert Square to Chinatown, with martial arts, music and dancing to get you moving and keep you on your toes.
Fancy trying your hand at something new? How about the traditional practice of Tai Chi, the Chinese martial art practiced for both its defence training and health benefits. Sit back, relax and enjoy professional demonstrations from Thursday through to Sunday on the hour from 11am – 5pm and if you want to give it a go, take part in a free workshop on the half hour with Start TAI CHI.
Why not head to Selfridges Exchange Square accessories department where you can get your trainers customised by local artist QQ Gibbs or take part in their traditional Chinese knot making and calligraphy workshops.
Hit up the street food market for the tastiest dumplings, steamed buns and dim sum. Or visit restaurants; Sweet Mandarin, Yang Sing, Ho's Bakery or Dim Sum Su just to name a few.
This little piggy went to…
LIVERPOOL
Liverpool is home to one of the first ever China Towns in Europe and home to the largest Chinese Arch outside of China and will be bringing in the Year of the Pig in Chinatown with a three-day celebration from Friday 8 – Sunday 10th. The weekend will merge the city's Chinese cultural history with a contemporary twist, bringing together the ever-popular projections and closing with a pyrotechnic display on Sunday evening.
In addition to the thousands of Chinese lanterns that hang in the city centre streets, classic buildings; St Luke's Church, Everyman & Playhouse Theatres and Sefton Park Palm House will turn red in homage to China. New artwork will take over the city of Liverpool in the run up to the main celebrations on Sunday. 12 animals designed by local artist Cherie Grist will appear on walls or in shop windows making up the Chinese zodiac.
The main festivities will take place on Sunday where you'll be able to enjoy a number of street and stage performances, workshops, a fairground, parades, firecracker displays and not forgetting the popular Chinese market on George Street, where you can find authentic gifts, souvenirs and mouth-watering Chinese food. Or get satisfied bellies by visiting either one of these restaurants; Chy, Yuet Ben or Chamber 36.
This little piggy went to…
LEEDS
Get into the festive spirit in Leeds where you'll be able to join in on a number of activities taking place across the city.
At Leeds City Museum the Voices of Asia gallery celebrates the sights, sounds and culture of Asia overseas and here in Leeds. Topics explored include Faith and Festivals, Trade and War, Fashion, Music, Dance and Food.
Feeling hungry? Try out some delicious traditional cuisine or even some cocktails with a Chinese New Year twist, as the bars and restaurants of Leeds have got you covered.
Tattu's beautiful floral setting and Asian inspired décor is the perfect place to capture the ultimate shot for Instagram and enjoy amazing food. Why not check out the cool concept of Mans Market or authentic dishes at Home restaurant, both offering up mouth-watering meals this Chinese New Year.
The Ivy in Victoria Quarter has launched a limited time only cocktail to celebrate the year of the pig available from the 1st to 10th February. The Lucky Zhū is packed with traditional Chinese ingredients, including Koko kanu and black Honjozo sake paired with coconut cream, pineapple juice and Prosecco for a sweet treat.
No matter where you are in the city this Chinese New Year, you'll be sure to find a spot to indulge in some amazing Chinese food.
Fancy enjoying a unique and exciting cultural spectacle featuring a team of performers showcasing amazing Chinese performing arts, then take a drive and join the celebrations at Victoria Theatre, Halifax. From the cheerful spirit of the auspicious Lion Dance, to the awe-inspiring contortion, the show is a colourful display of Chinese cultural tradition