Christmas happenings in Birmingham
Christmas has well and truly taken over Birmingham. We've rounded up the best ones not to be missed so you can sleigh this festive season.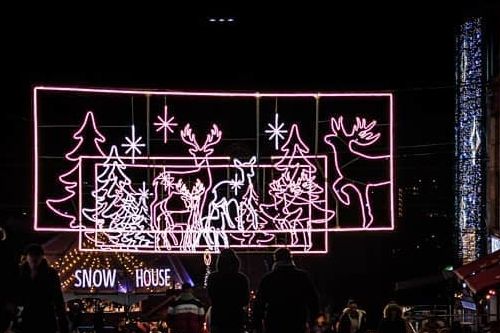 All hail Birmingham
Christmas has well and truly taken over the city this year. With so many Christmassy events to get booked into your calendar. It's safe to say Birmingham has well and truly sleigh'd this festive season.
So what to expect, well… Over the Christmas period, this city boasts over 200,000 visitors and there's a good reason why. It's bloody fantastic. From Apre Ski Parties to the infamous Big Wheel, yule be coming back for more.
Frankfurt Christmas Market
The largest German Christmas market outside of Germany and Austria. This is a firm fixture in everyone's Christmas calendar. Open throughout the week until the 23rd of December.
Amazing stalls, heaps and heaps of traditional German food; pretzels, schnitzels, bratwursts, and roasted almonds.
With Christmas classics being performed every Sunday. We need to get back to Birmingham asap, now Christmas has arrived.
Big Wheels Keep on Turning
Have you taken a ride on one of Birmingham's latest attractions? Running alongside the Christmas market, with its neon and florescent light flashing into the city. It wheely cannot be missed.
Riding the high flying wheel gives you the opportunity to sit back and relax, whilst you take in the view of the bright lights of Birmingham. Get your camera at the ready as you try to take perfect selfie at the top.
How the Grinch stole Christmas
There is no film that makes us feel more festive than The Grinch. We can't make out whether this is because of Jim Carrey's excellent performance as The Grinch himself, or if it's the whole existence being based on Dr. Seuss' hugely popular best-selling books made famous by the film adaptions. Either way, we cannot wait to be launched into the whimsical world of Whoville.
Follow the journey of how The Grinch discovers there's more to Christmas than he bargained for, whilst meeting a sweet girl who through persistence and love opens his cold heart. What's even more amazing is that the Grinch's only love, his beloved dog Max, is the narrator of the whole show. Big up Max.
This show will open the curtains on the 3rd of December and it's one not to be missed. So, cop yourself a [ticket(https://www.atgtickets.com/shows/how-the-grinch-stole-christmas/the-alexandra-theatre-birmingham)... there's no resting Grinch face here.
The Christmas Feast
It's all about the Christmas Feast in Digbeth on the 30th of November.
Get yourself down to The Bond Company, Fazeley Street, Digbeth – which will be decked out with the ultimate Christmas decor. Open 12 pm - 6 pm... 6 hours to fill yourself up on the Christmas-themed street food, from some of the well-known food companies, Bourneville Waffle Co, [Fat Snags(https://www.instagram.com/fatsnags) and many many more.
Not just food though, a market hall to start your Christmas shopping if you haven't already. Live music. We'll be trying something different and sipping on a rum-spiked hot chocolate.
**The Bottomless Cinema Present: Christmas Special **
Who've heard of a bottomless brunch. What about a bottomless cinema?
From the 15th of December, [The Canalside Cube(https://www.designmynight.com/birmingham/whats-on/bottomless-brunch/the-bottomless-cinema-present-christmas-special-birmingham) will be transformed into a singing cinematic haven.
Christmas classics, bottomless drinks with a side of bottomless popcorn, ice cream, and candy floss. Taking Christmas movie watching to the next level. The only question is what film? We'd be at all 4 if we could...
Home Alone 2, Love Actually, Elf and the Greatest Showman. Which one are you picking?
**Apres Ski Party **
We all know the classic Apres Ski Parties over in the Alps, plastered over social media come December.
But what if we told you, that you didn't need to fly all the way to France to discover alcohol on the slopes? Well, back for another year is the Official Apres Ski Party, hosted in the Jewellery Quarter.
If it is your responsibility to organise the group's Christmas gathering, this is just the ticket.
Yes, all things snow and ski-related (without the actual skiing) with giant snowflakes, ski racks, fairy lights, and bench seating. A full bar providing beers, wines, spirits, winter-themed cocktails and glasses and glasses of prosecco.
The food, we hear you ask… a cheese dream. Cheese fondues, platter upon platter of artisan bread, cured meat, pickles, smoked sausages, and all the extra trimmings.
Apres Ski-themed games throughout the night. There's also DJs, so mask sure you dance like snowbody's watching.
All I want for Christmas is brunch
Yep, the names in the title. We LOVE brunch. Who doesn't?
Add a banging Christmas playlist, obviously including Mariah Carey. This event is all you could want.
Don your favourite or ugliest Christmas jumper and get ready for sh*t tons of food and two whole hours worth of bottomless prosecco.
Brought to us by Impossible Things, two out of the four Saturdays are sold out already. So round up your pals and let's get down to business.
Merry Christmas from Moda's little elves