Halloween in the City
Halloween is here. Manchester has a great line up of 'spooktacular' events. Feast your eyes on our horror guide which will have you DYING to celebrate the spooky season.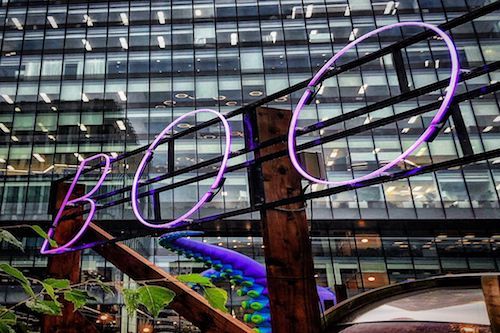 It's that time of the year… pumpkin spiced lattes are back. Nights are getting darker and darker. There's a chill in the air which can only mean one thing… Halloween is here.
From scary soirees to creepy carnivals and horror film screenings, Manchester has a great line up of events for a terrifyingly good time. Dare to join the spooky celebrations? Whether you're brave enough to take on a haunted Manchester or staying in to avoid caskets of decomposing mummies. Whatever your plans, we have the ultimate Halloween guide for you.
Monsters Invasion
Pretty hard to miss that the giant inflatable monsters have returned. Invading Manchester's most iconic buildings. The creepy creations were designed by artists Filthy Luker and Pedro Estrellas. This year they're scaling more of Manchester's buildings than ever, so keep your eye out and grab a snap of the beasts! You can find them hanging out above Manchester Arndale, Manchester Hall, Mayfield and for the first time ever Selfridges Exchange Square! Wonder if a Monster will climb up Moda, Angel Gardens next year?
Manchester's Biggest Halloween Festival
Find your inner ghoul and get ready to party 'til your dead. Bowlers Exhibition Centre is set to host the ultimate Halloween festival on Saturday 2nd November at 7pm. Step inside Halloween-Land... The festival includes everything from classic cult horror films and immersive photobooths to 'spooktacular' grottos and a zombie run. There will also be some spooky surprises with live performances from circus acts and carnival processions. Plus, get your hands on some scarily sweet treats with an array of food stalls along with 'Franken-steins' from the Octoberfest Beer Grotto.
Trapped in Wonderland at Vclub
Get ready to experience Alice In Wonderland as you never thought you would before. Just as the name suggests, 'Trapped in Wonderland' takes you on a Halloween twist of the classic fairy-tale offering a unique darker Halloween party that you won't want to miss. The event kicks off at Vclub on Saturday 2nd November at 11pm. Just to warn you 'no effort, no entrance!' You heard them, so get your drop DEAD GOREgeous costume at the ready! You can also get the ultimate killer look at the Halloween makeup station, but enter at your peril!
Bottomless Cinema Screening of Harry Potter
Halloween is the perfect excuse to binge on Harry Potter and what better way to enjoy the films than with bottomless drinks and unlimited popcorn? You will be pleased to know that The Brickworks in Manchester's Barton Arcade is showing every single Harry Potter film in the run-up to Christmas. With full waiter service for the duration of the film, what's not to love? Accio snacks
The Ultimate Spooktacular Party Playlist
Whether you're having pre-drinks before a big night out or having a fright night at home. Here are our 10 must-have songs for you to get your spook on. Thank us later!
No tricks, just treats
Dressing up and spooky nights out not your thing? Don't worry we've got you covered for the ultimate Halloween night in.
We'll be showing our first movie on the big screen at Moda, Angel Gardens. A Nightmare on Elm Street. Definitely not for the faint hearted. Not a resident, or that doesn't take your fancy. Give these chilling picks a watch… Escape room, Child's Play and Annabelle Comes Home.
If horror isn't your genre of choice, why not try the animated comedy - Corpse Bride. No need to hide behind your pillow for this one. Tim Burton's classic will have you smiling from ear to ear