The healthiest neighbourhood in Europe!
Moda, The McEwan bags itself a top, 3 Star* Fitwel rating, officially making it the healthiest development in Europe.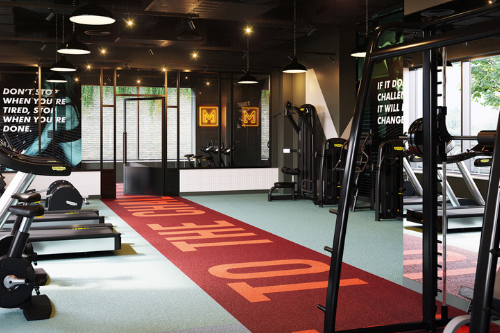 Healthiest Development in Europe
Fitwel is the world's leading certification system committed to building health for all.
By making wellbeing intrinsic to the design and operation of the building, Moda, The McEwan has attained a top score, making it the only residential development in Europe to be awarded the highly sought-after certification...pretty cool, huh?!
This achievement shows we're pretty committed to taking care of our residents, advancing their wellbeing by implementing health aware design and operational strategies.
All of our neighbourhoods are lifestyle driven, built with wellbeing at their core and feature state-of-the-art amenities to promote healthy social living amongst residents.
Moda, The McEwan includes top-tier amenities, innovations and service offerings that are recognised by Fitwel as an essential service to improving residents' health and wellbeing.
There's a total of 476 rental apartments with access to 45,000 sq. ft. of amenity space, including a residents'-only gym, indoor and outdoor fitness classes, landscaped gardens and terraces, personal trainers and specialist nutrition and wellbeing experts on demand.
Residents' healthy sleeping is also a priority. Pocket sprung mattresses made from 100% natural materials are in every apartment, and noise cancelling walls, five decibels above current building regulations, will provide peace and quiet.
The development was also designed with mental well-being top of mind. Providing residents with contact to fully certified mental health professionals, regular wellbeing workshops and mental health first trained staff. Moda's calendar of events brings residents together and inspires genuine human connection that is intrinsic to human wellbeing.
Lydia Eustace, Marketing Director and Head of Wellbeing at Moda, said: "at Moda, we're committed to making healthy living achievable for even the most 'time poor' residents. We're thrilled to be the first, and only, residential development in Europe to achieve a Fitwel 3 star rating, meaning the residents moving into Moda Edinburgh this year will live in a community that has been carefully designed to foster their health and wellbeing."