LGBT history month
A recap around what LGBT history month is all about... Move over Valentine's Day, this is the real reason February is the true month of love.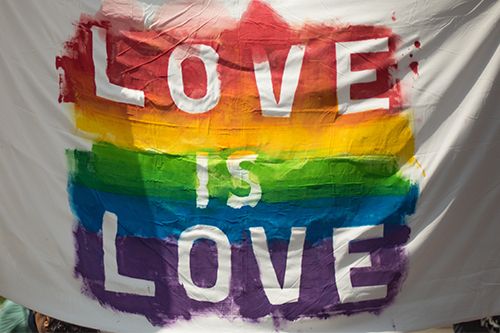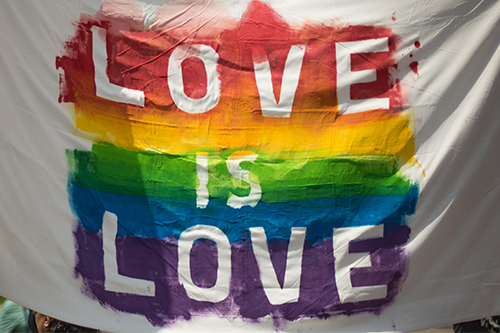 L-G-B-T
Let's take a moment to reflect on 2020's LGBT history month. Shouting out to our fave cities, smashing it with their inspiring events. Influencers doing a boss job pushing for more awareness around lesbian, gay, bisexual and transgender history and of course, a recap around what LGBT history month is all about.
To remind us why we should be proud of what we've achieved to date, and how we can work together, as a society to move forward.
Move over Valentine's Day, this is the real reason February is truly the month of love.
What is LGBT month all about?
It occurs every February of every year, a celebration that encourages further education into LGBT+ issues and the history of the gay movement.
The very first LGBT month took place in the USA in 1994. The UK didn't actually join until 11 years later in 2005. The very first one sparked over 150 events across the country - a pretty great effort for the first time.
LGBT History Month was initiated in the UK by Sue Sanders and Paul Patrick as a Schools OUT UK project, back in 2005. The event came in the wake of the abolition of Section 28 in 2003, the Employment Equality (Sexual Orientation) Regulations 2003 as well as the government's proposals to bring in single equality act.
Although with the introduction of all these three acts, equality began in the UK. This doesn't mean we've achieved equality. In fact, we all have a long way to go and the first step is becoming aware. So read up!
Who is it for?
LGBT history month is for everyone...
Community groups, organisations, individuals, activists, service providers, LGBT and non-LGBT people alike. You. Me. Your best friend.
It's an amazing opportunity for local authorities, businesses and third sector organisations to show their support for LGBT people.
We completely support this awareness month here at Moda, not only because it's an all-inclusive event that we can all get stuck into, but more importantly to educate ourselves on the history and to focus on the future of activism. The month is intended as a means to raise awareness and combat prejudice whilst celebrating the achievements to date.
Thinking... 'Yes, I understand what it's about, but how can I personally be a part of this movement?'
What can I do to take part?
Every year more and more cities are taking part by providing educational, fun and accessible events open to everyone and anyone, encouraging more people to be made aware of the history of LGBT. Plus, what needs to be done to ensure we keep moving forward as a society.
February is nearly over, it looks as though most cities have saved their best events until last. Take a look and see if you can join any below...
Manchester LGBT events
Who doesn't love a good quiz? If you think you know everything there is to know, then, why not gather a crew and test your knowledge at the Annual LGBT Quiz happening at On Bar on the 27th of Feb?
This will be a great way to learn more around LGBT history, whilst also enjoying a night out too.
If you're looking for a more 'profresh vibe', then maybe you would prefer the 'Out Of Office – LGBT Networking Manchester' event, with nibbles of course!
Where? The Irwin Mitchell's offices in St Peter's Square. No long speeches or boring presentations... just a welcoming atmosphere with the chance to meet some new friendly faces.
Liverpool LGBT Events
If you're based in Liverpool and eager to educate yourself more around LGBT history then check out the talks happening at Liverpool John Moores University on the 28th of February.
This event will feature an impressive list of industry leaders. It's open to all staff and students, as well as the local community, so get yourself down there if you're nearby.
Following on from the success of their launch event, back in June and their most recent event in October celebrating 'National Coming Out Day'. Head down to the third event of the Liverpool LGBT+ Professional Network, at the City Wine Bar and Kitchen on the 27th of February.
It's not sector-specific, open to all professionals regardless of whether you identify as LGBT+ or straight. Another opportunity to meet people and enjoy interesting conversations around the past and future of LGBT.
Leeds LGBT events
The Leeds City Museum is throwing a drop-in session/workshop on Saturday 29th of February from 1pm-4pm. A fantastic opportunity for anyone to come along to learn more in a laid-back environment.
Fancy something a bit different? From alternative dance to ground-breaking choirs, Ross Horsley from West Yorkshire Queer Stories explores anecdotes and artifacts from the Leeds LGBT+ musical heritage. A really unique way to learn more around LGBT.
Shout out to the LGBT influencers
One thing that we have now that we didn't have when LGBT history month first launched, is social media. With social media comes great power! It gives people the opportunity to express themselves and find communities of likeminded people, who can offer advice, support and even inspiration.
We've listed a few great accounts to follow to fill your feed with LGBT inspiration. These accounts are funny, inspiring, uplifting and most importantly, offer a strong community for people to be exactly themselves and express who there are...
- lgbt_history
- mattxiv
- stevieboebi
- lgbt.heroes
- softiel0ve
- tboy61915