Manchester Food and Drink Festival 2019
The eagerly anticipated Manchester Food & Drink Festival returns. This year marks the 22nd year! 12 glorious days of celebrating the city's magnificent food culture.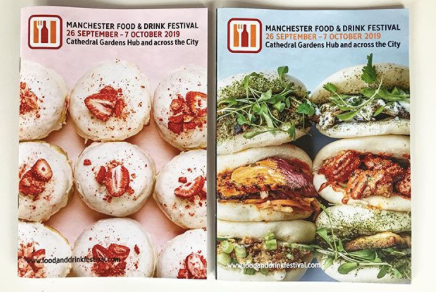 The eagerly anticipated Manchester Food & Drink Festival returns to our favourite city. This year marks the 22nd year! 12 glorious days of celebrating the city's magnificent and evolving food culture.
It's obviously got bigger, better and tastier. Better yet, this time it's in an all-new location, with an even more jam-packed schedule than ever before! tummy rumbles thinking about all the food
Get yourselves down to all the action, at the festival hub, located at Cathedral Gardens from September 26th to October 7th. Expect a full line-up of mouth-watering street food, live music, cookery classes, pop-up events, delicious cocktails,
guest chefs, and a whole lot more!
We've pulled out the events that should definitely be in your calendar. Get ready to feast on some fantastic food and drink…
The Northern Quarter taster walk
Fancy eating your way around the Northern Quarter? Us too… We couldn't leave out the NQ Taster Walk, located just a short walk away from Moda, Angel Gardens. Taking place on Saturday 28 September at 11:30am, the tour will guide you through a fascinating journey of the NQ's culture, history and more importantly cuisine. Get those steps up, burn some cals, take in the hustle and bustle of the Northern Quarter streets.
Stopping off for food at five signature eateries… this isn't your typical meal out. Discover something new about the area and excite those taste buds. Be warned… eat a small breakfast!
A punch above
Ever wondered how to make the perfect party tipple? No time like the present. Get yourself down to Cathedral Gardens on Saturday 28 September at 6:30pm with JJ Whitley Gin & Vodka Ambassador. You'll have your very own masterclass hosted by Jamie Rowe. The chance brush up on your Party Punch knowledge whilst attempting to make your own! End game = be a party punch connoisseur.
Vegan takeover
Manchester's growing vegan community cannot be ignored. This year all vegan lovers alike will have their very own Vegan Kitchen. A plant-based transformation, you won't be-leaf, on Sunday 29 September at 6pm in the Dining Dome. We can't wait. You'll be joined by special guests and Live Cookery Theatre throughout the day. Vegan broadcaster, musician and journalist John Robb, and pescatarian Shaun Ryder will be hosting a vegan feast from their favourite restaurant Bundobust.
During the day be ready to be blown away with demonstrations from award winning chef and authors. Don't overindulge too early, as come night time, you'll be in a maze of vegan street stalls. Something from each please. Finish the day with some creamy vegan ice-cream. Dessert always. Be prepped, food coma incoming. Once home, roll into bed!
Wine and Fizz Festival
Sip wines from around the world at the two-day Wine and Fizz Festival. Taking over the city's Cathedral on Friday 4 and Saturday 5 October. Make your way around four zones – 'English wine,' 'Wines of the World,' 'The Fizz Quarter' and 'Food Matching' area – nothing to wine about here!
It's definitely no stuffy or solemn wine worshipping event despite the awe-inspiring venue. A big celebration of wine for the wonderful people of Manchester and beyond!
**Dinner somewhere high above Manchester **
Everyone loves a rooftop view. We're particular fans when the view is of Manchester! Yep, you guessed it… one of the city's favourite and fashionable restaurants, 20 Stories. Wasn't hard was it? Head Chef, Brian Hughson has created an exclusive 3 course menu to celebrate MFDF, with matching wines, of course! Expect drinks on arrival on the jaw dropping terrace followed by decadent fresh fish dishes and mouth-watering desserts.
Love a view and fancy some posh? This one's for you.
trendsWhet your appetite enough? Don't forget to pack your brolly, because, in true Manchester style, we're expecting a bit of rain. Don't worry though, most of the festival is undercover! Bon Appétit!