Manchester Pride Guide
Pack your brightest clothes, don your most fierce make up and iron your rainbow flag. Pride is back in Manchester for the ultimate party over the bank holiday weekend.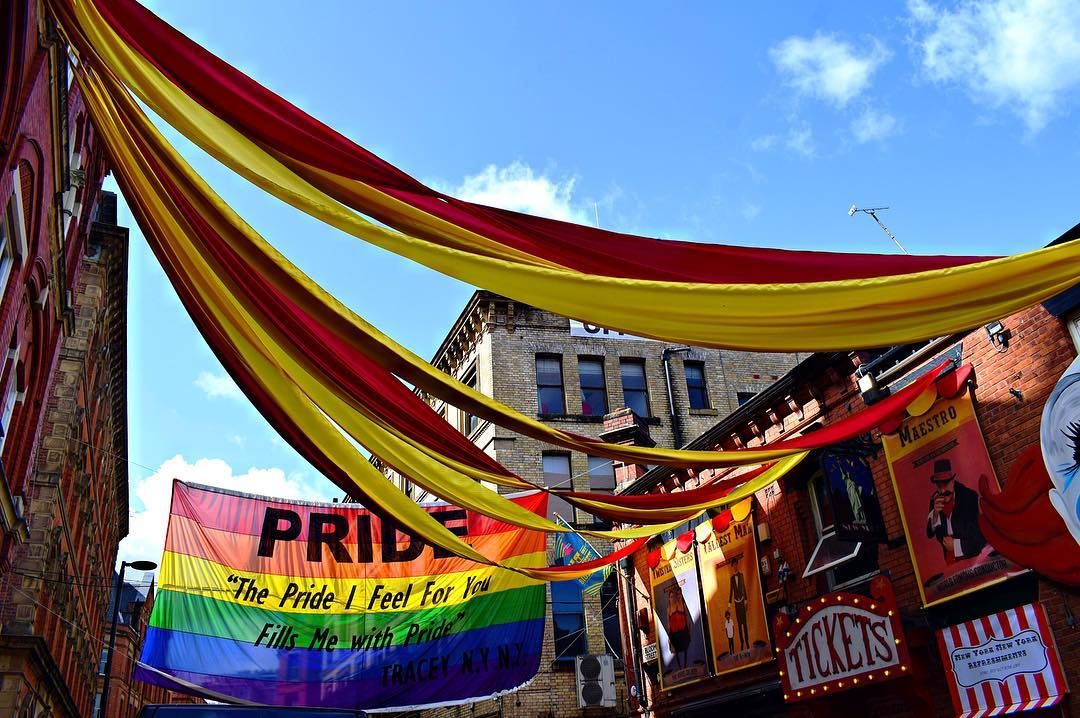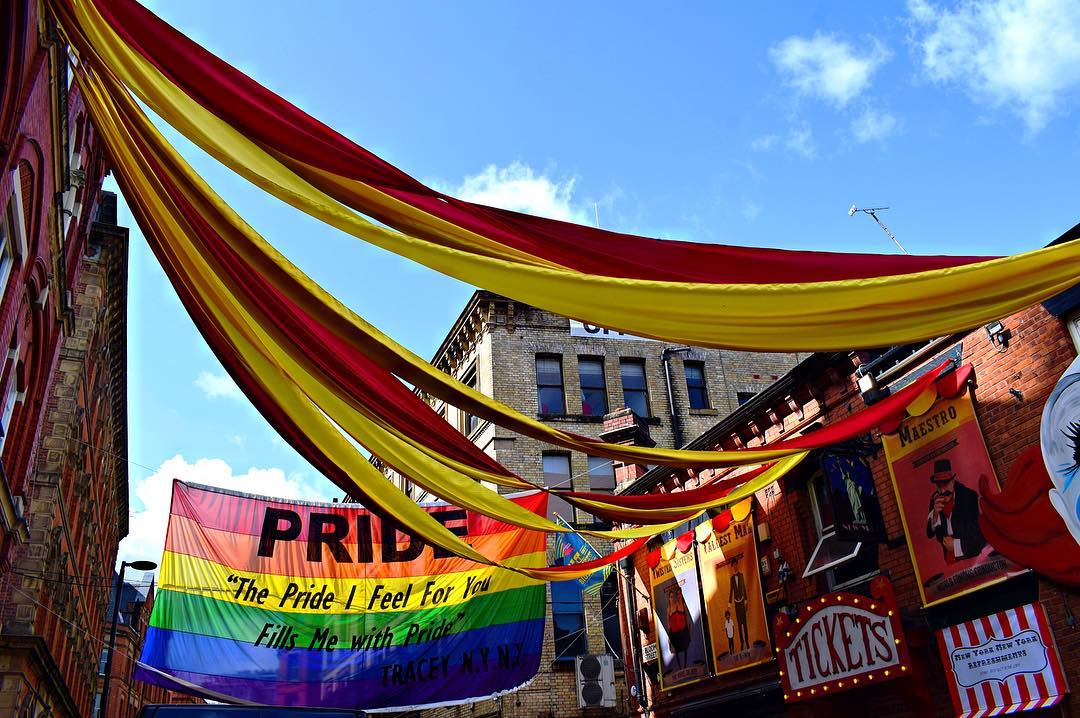 Pack your brightest clothes, don your most fierce make up and iron your rainbow flag. Pride is back in Manchester for the ultimate party over the bank holiday weekend and we cannot wait! 4 full days for Pride-goers to lap up.
The glitterazzi will be out in force as the streets, buildings and people of Manchester unite to celebrate all the love and inclusivity in this big bold city. We have the perfect Pride playlist to accompany it.
If you're as excited as we are, then this Pride Guide is for you – get the low down on the line up and everything you won't want to miss.
The main event – the parade
The Pride party waits for no one. There's always time to reflect and acknowledge what people have gone through and continue to go through in the fight for equality during the parade. Kicking off on Saturday 24th - the theme, 'Deep Space Pride: A future world of equality'. Celebrating the milestone anniversary of the Stonewall Riots and a brighter future to come. So, make sure you're there to cheer everyone on as they go by on their fabulous floats.
The centrepiece of the weekend starts on Deansgate, on to Liverpool Road and Peter Street. Then past Great Northern Warehouse and the Central Library onto Oxford Street. Along Portland Street, past the Gay Village to Princess Street and then left on to Whitworth Street before finishing at Fairfield Street – you really can't miss this rainbow procession
roseellendix
Manchester Pride live
Music has always been at the heart of Manchester, so of course Pride has a fabulous line up of artists who have all used their voices to support LGBTQ+ causes!
Sashay on down to Mayfield to revel in non-stop entertainment from honorary Mancunion Ariana Grande who will be performing on the Sunday. If this is news to you, where have you been?
Saturday's headliners are the Years and Years, Emilia Sandé and Lady Leshurr (queen of freestyling). The stellar line up also includes Becky Hill, Liberty X (hi noughties flashbacks!), Louisa Johnson, Pixie Lott, Chelcee Grimes, Four of Diamonds and transgender German singer and songwriter Kim Petras.
Bigger is always better. This year, Pride is on a scale like never before. Dance your rainbow socks off to huge names like Basement Jaxx, Nicky Siano: Hallelujah Disco, Gok Wan, Rhythm of the 90s, We Love Pop, Jodie Harsh, Hercules and Love Affair, K-Klass Live and Faithless who will take the party right through to the early hours.
Be sure to check out the Superbia Weekend festival during Pride. The alcohol-free space will be hosting LGBT events and celebrations across the weekend, so you can put down that martini and still enjoy the party!
Gay village party
Manchester's Gay Village is at the pinnacle of Pride. Awash with rainbow bunting year-round. Over Pride weekend you'll be entering a kaleidoscope of colour, from bunting and flags to balloon arches, glitter and confetti - everywhere you turn.
An extravaganza of community performances, street parties and markets for you to explore. The Village is like nowhere else.
Marvel at performances from the legend that is Lulu, X-Factor's Saara Aalto and host Stephen Bailey. You can also sing your heart out to your favourite film classics at the Sing Along Cinema. From Bohemian Rhapsody to Dreamgirls and Chicago, you will be spoilt for choice, so get those vocal chords at the ready. Don't worry, if you're more of a 'sing in the shower where no one is listening kind of person'. Then the Silent Disco is the perfect place for you. With a range of music channels, there's something for everyone to sing along to and dance the night away. Which event will you be heading to?
Food, fabulous food
Being fabulous requires fuel. We're always spoilt for choice in Manchester. But for this occasion, tucking into a well-deserved feast at Sackville Square Fair is a must. A true street party of flavours. A host of mouth-watering food, colourful cocktails and the popular market stalls for all your memorabilia!
Popular bar The Font has also brought back their insane Pride cocktails. They've been back on the menu since beginning of the month and will continue to serve colourful creations aka 'Pride in a glass' until the end of the month. We'll take a 'Taste The Rainbow' any day of the week. clink clink
Shimmy on down to Grand Pacific to try out their Pride High Tea – just £23pp with £2.50 going to Manchester Pride Charity – this lunch treat will be a delight for your taste buds, your eyes and most importantly, the 'gram!
After party – bar and club recommendations
After the show it's the after party – if these words resonate with you then we have some great bar and club recommendations to keep you dancing the night away.
Get yourself down to G.A.Y. Manchester, one of the most famous club franchises in the world so there's no doubt this will be an unforgettable night.
If you love a night with cheesy pop hits, then try Bar Pop on Canal Street in the Village where you can party into the early hours.
A Manchester night out wouldn't be right without a trip to Refuge. Located in one of Manchester's most iconic buildings, this is the place to be for a night of good food and fantastic music. Their 'Come As You Are Weekender' is not to be missed – 3 days and 3 nights of street parties. Their biggest party of the year!
If you were one of the lucky ones to get the coveted tickets to the best Bongo's Bingo of the year, over Pride weekend, then we're very jealous!
This party is bound to beat all others. One of the best in the North with amazing guest appearances, rave intervals, inflatables, confetti, glitter, awkward dance offs and mega prizes. We're signing ourselves up for the early bird tickets ready for Manchester Pride 2020! You probs should too