Moda, New York Square - Rock at the Top!
Our Leeds neighbourhood has officially reached level 16 today. So how did we celebrate this topping out… with local band Talkboy live from the top!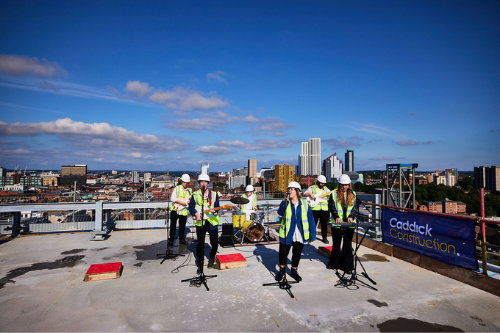 Our Leeds neighbourhood has officially reached level 16. So how did we celebrate this topping out… with local band Talkboy live from the top!
To mark the occasion, we teamed up with Leeds Conservatoire students, Talkboy. Playing at the highest point of the development, Talkboy played 51 metres over Leeds.
Pretty cool, eh?
Johnny Caddick, Chief Executive of Moda and Paul Caddick, (yes, his dada) Chairman of the Caddick Group, were joined by Leeds City Council leader, James Lewis and Leeds Enterprise Partnership's, Sir Roger March OBE.
They cemented the band's drumsticks into the very top of the development!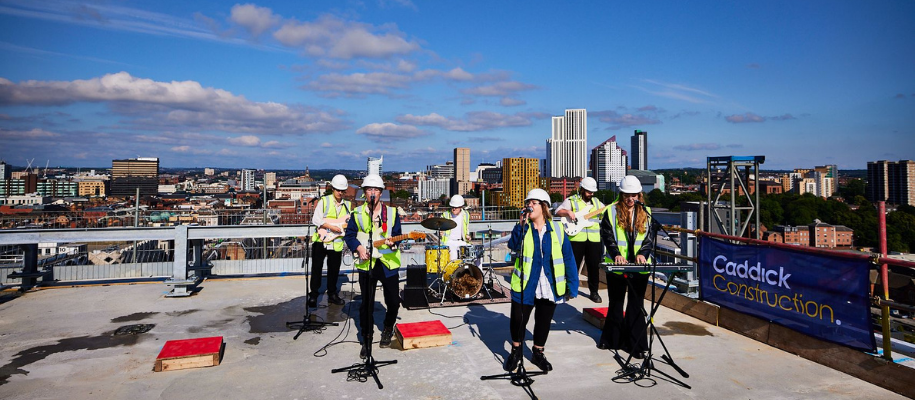 Caddick Construction started on site 19 months ago. Despite the challenges of the pandemic building has remained on track, employing 260 people from the local area, plus 12 full time apprentices and working with over 15 local schools and 800 students to deliver ongoing employment and skills initiatives. Over £250,000 has been raised for Leeds based charities including Kidz Club and St. George's Crypt.
The largest Moda neighbourhood to date, it will open to residents in April 2022. That's less than a year away! throw hands up
Designed by award-winning DLG Architects, the Moda rental homes are across two C-shaped 16-storey blocks. A new public courtyard in between the buildings and rooftop terraces overlooking the city centre.
Named New York Square after nearby New York Road and a nod to its synergy with performing arts and culture. The neighbourhood in our home town will host a range of on-site amenities, such as shared lounges, co-working, gym, private dining room, a cycle hub, and health and wellbeing facilities, with access to everything included in the rent.
Johnny Caddick, Chief Executive, Moda Living:
"Our focus is on delivering best-in-class institutional-grade design coupled with market leading customer service. High quality homes will be accompanied by state-of-the-art amenities designed with tech and wellbeing intrinsic to the offer. Coupled with new commercial occupiers from coffee shops through to local independents, this area will soon be animated throughout the day with people who don't just work and play here but also call it home.
As a build to rent operator, our aim is to create long-term communities, knitting ourselves into the fabric of areas we're in."
Martin Farrington, director of City Development for Leeds City Council said: "On the back of the new City College and refurbished Leeds Playhouse, it's fantastic to see the Moda blocks at New York Square developing so fast. This is a real statement of confidence in Leeds and a further boost to the city. Since 2013 Leeds has delivered more new housing than any other Core City in England and the SOYO development will help to ensure that we continue to meet our housing targets and support the development of a thriving cultural neighbourhood."
Roger Marsh OBE, Chair of Leeds City Region Enterprise Partnership and NP11 said: "I am delighted that Caddick Developments multi-million pound SOYO scheme has reached the first phase of completion with the topping out of the Moda blocks."
"With a dynamic economy, vibrant urban hubs and outstanding standard of living, the creation of high quality housing is key ensuring that Leeds City Region is not just best for business but best for lifestyle and for talent."
"This development highlights the confidence and momentum of investment into Leeds city centre and the wider Leeds City Region."
Moda, New York Square SOYO Leeds with a nod to its synergy with performing arts and culture. A new exciting neighbourhood, transforming and evolving the Quarry Hill community. 515 beautiful apartments, amazing amenities - soon to be called home.
Read more over at The Business Desk and The Yorkshire Post.