Moda + Brighton Festival
Festival feels incoming... we're sponsors of England's leading multi-arts - Brighton Festival! A celebration of the arts across the city and beyond. See you in May.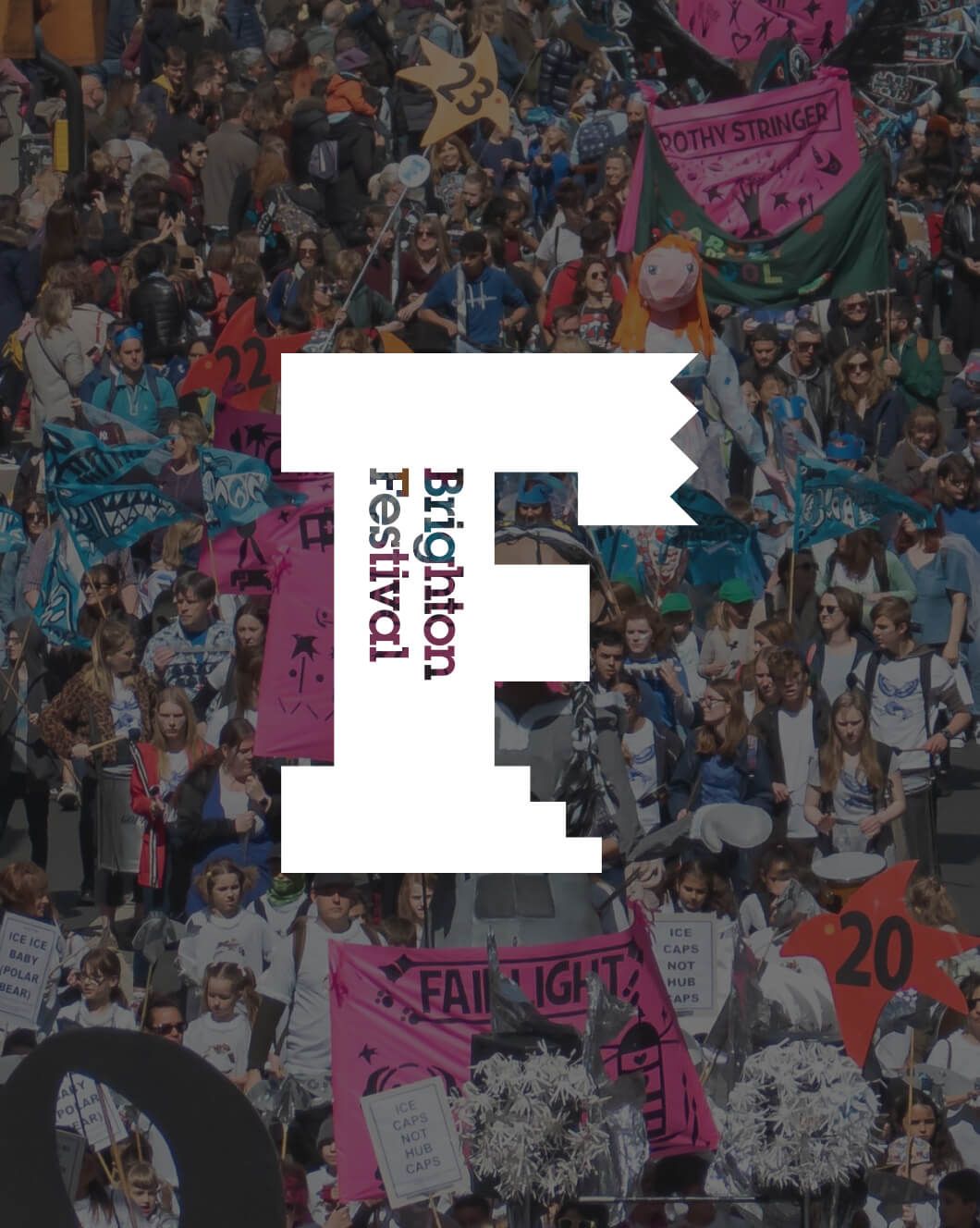 Hands up if you love a festival
Not just any festival...
England's leading multi-arts festival is back to full strength - Brighton Festival.
Our hands are up
We're not just attending, we're sponsoring. throw hands in the air
We're all about community, it runs through our DNA. It runs through the festival's DNA. This just makes sense!
A festival for all... from 'culture vultures' to those who wouldn't normally attend art events.
Live music to music lessons, weekend morning singing to theatrical make-up workshops. Parades, spoken words, dancing to debates.
The purpose of Brighton Festival is 'inspiring creativity, enriching lives.'
Being able to support a project that mirrors our own values, contributing to a stunning temporary addition to the Hove seafront, is a huge and exciting opportunity!
Get it in the diary
An annual, international festival of arts and culture featuring installations, performances and events that celebrate artistic communities from Brighton and Hove and around the world.
This year, bigger and better... over 3 weeks, Saturday the 7th - Sunday the 29th May. Over 30 different venues from theatres to open air performances. The festival is spread across the city. An opportunity to explore all of its nooks and crannies. Experience a space you walk past every day but in a whole new light. Stumble across new areas to mooch and take in.
**Rediscover. Reimagine. Rebuild. **
Founded in 1964 with the first festival held in 1967...
2022's theme is "Rebuild".
Rebuild communities. Rebuild relationships. Rebuild interactions. Everyday day life aspects that were paused and effected over the past few years.
A celebration of the arts across the city and beyond, rebuilding connections over 150 events.
A few name drops for you of previous artists - Laurence Olivier, Yehudi Menhuin, Ella Fitzgerald, Margot Fonteyn, Elvis Costello, Eddie Izzard and many more.
The Riwaq
The what? Yes, we said it twice too.
A temporary new venue on Hove seafront designed by Syrian architect, author and co-guest director of this year's festival, Marwa Al-Sabouni.
Riwaq is the Arabic word for colonnade – a semi-open space transitioning between open and enclosed spaces. Riwaq is often used in Arabic traditions figuratively as a "referential space for culture and knowledge – the Riwaq of poetry, the Riwaq of culture, and so on…"
It will be built from reclaimed timber and sustainable materials. After the festival it will be dismantled and donated to community projects or the materials will be recycled to continue its life elsewhere.
Performances pending
• Best Foot Music and In House Records are social initiatives that are all about music, community and positivity! Both strive for change and support artists... In House Music operate in and out of UK prisons. Expect fresh music and beats to move your feet.
• The Museum of Ordinary People celebrate the ripples ordinary people leave behind, finding the magic in the mundane. Listen to the stories and find connection. Reflect and explore experiences.
• Little Green Pig Takeover, young writers unleashing their imagination on the city through open mic, workshops, performances!
• Carousel, an award-winning Brighton-based arts organisation who champion artists with a learning disability. Celebrating creativity through a variety of events; radio, spoken word, music and digital arts.
It will be THE destination of the festival. Think electric, self expression and uniqueness.
See you there!
Guest Co-Directors
Bring their their knowledge and passion to the festival.
They discover new works, artists and ideas. Pushing the creative boundaries taking Brighton Festival in exciting and innovative directions!
Marwa Al-Sabouni
"Architecture is as encompassing field of knowledge as philosophy. It's where we live, work, connect and belong. We are inevitably affected by how it looks and how it feels, as much as it's affected by how we respond to it, interact with it, live in and around it."
Marwa designed the structure in connection to communities and the festival's theme of rebuilding. Associating the space with coming together with the community to communicate, connect and exchange. We're all about that!
A circle structure. Did you know the circle is considered a symbol of unity?
Tristan Sharps
Brighton based theatre artist explains...
"For me, our theme of rebuilding is not just about reconstructing your physical surroundings - it's also about reinventing and reimagining those surroundings, and I strongly believe that it's this way that we can reconnect not just with those surroundings and the world around us, but with ourselves as well."
Lydia Eustace, Moda Marketing Director
"The Riwaq project is an inspiring piece of work based on the importance of bringing communities together, and the value of interaction and experience to wellbeing.
This is at the heart of what we do at Moda, where we're dedicated to building sustainable neighbourhoods that have a positive impact and promote collaboration between communities. We're proud to be a part of the festival and look forward to celebrating arts and humanity with people from all over the world."
That festival feeling
The power to bring people together, entertain and inform. Educate and inspire.
We can't wait to see, hear, debate, eat and drink and dance. Soak up the atmosphere, create memories.
The countdown to May is ON!