Moda sponsors the Leeds Rhinos Netball Super League
Bounce pass. Fast feet. Chest pass... The Moda logo is proudly on the squads uniform. Go get them champs!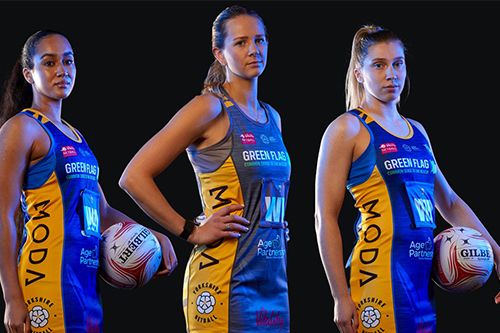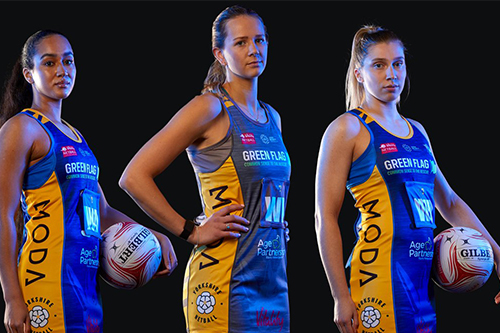 11 teams, 1 goal
Have you spotted our logo on the Leeds Rhinos Netball uniform? The first ever Rhinos Netball kit! We're one of the main sponsors. throw hands in the air
The Leeds Rhinos Netball , founded in 2017, 4 years in the making started with a bang in the opening weekend of Vitality Netball Superleague. Victory over Celtic Dragons... Bringing elite level netball to Yorkshire. round of applause
The Moda logo is emblazoned down the side of the Rhinos kit which was proudly showcased for the first time on Sky Sports last month... stepping out on to the court on the 12th February to be exact.
Games this season will all be played at central venues, Wakefield's Production Park and Copperbox in London, and Leeds Rhinos has been selected for ten live Sky TV games - more than any other team... nice one!
The Vitality Netball Superleague welcomed 10,000 fans for their season opener last year showing the mass audience and interest in the sport. Leeds Rhinos Netball are proud to be able to bring elite netball back to Yorkshire where they hope to attract a new audience and inspire more players, youngsters and the sporting community.
Watch the Leeds and Loughborough highlights before the next game on 14th March against The Wasps - Coventry
The people, our home team
The Rhinos team is led by co-captains Jade Clarke, who is Vitality Roses most capped player and Northern Ireland international Fi Toner.
Inspirational words from the ladies...
Jade Clark - 'knock down the door of opportunity'.
Fi Toner - 'hard work beats talent, when talent doesn't work!'
The side also includes Leeds-own Brie Grierson and Rosie Harris as well as Vitality Roses player Vicki Oyesola, who recently played for the Roses in the Legends Series against the Superleague Allstars alongside Clarke.
With inspirational coach Dan Ryan at the helm, the squad are aiming to make a big impact in their first season. Dan has previously held roles as Head Coach with Adelaide Thunderbirds, Assistant Coach with Manchester Thunder and is the current Head Coach of the Northern Ireland national team. As an athlete, Dan is the former Captain of the Australia Sonix men's netball team. With Dan's diverse skill set, strong leadership, and bold vision, Leeds Rhinos Netball is well placed to make its mark in 2021.
Our very own, Lydia Eustace, Marketing Director says...
"The importance Leeds Rhinos Netball place on developing great athletes on the court as well as rounded and balanced people off the court struck a chord with us. We focus heavily on supporting Moda residents' mental wellbeing which has been even more important during the pandemic. We look forward to working with the team on a number of initiatives in the local community, including the launch of the Moda Corporate Netball Tournament for businesses in the region."
Says Dan Busfield, Franchise Director for Leeds Rhinos Netball...
"We are delighted to welcome Moda as one of our key sponsors for our first Superleague season. As a local business with a UK wide reach, a huge focus on health, nutrition and wellbeing and an engaged community of residents many of whom are keen sports players, it seemed like a natural fit. We look forward to working on some exciting initiatives as the year progresses and would like to thank them for their support."
Squad goals
Unsurprisingly since the England Roses became Commonwealth Games Gold medallists in 2018, 130,000 new participants were inspired to take up netball. Now over 1.4 million women and girls play netball in the UK. friendly elbow bump
Alongside its official charity, Leeds Rhinos Foundation, Leeds Rhinos Netball is committed to supporting the country's most popular women's team sport. Their mission is to provide a platform for netball's next generation of superstars to emerge, flourish and thrive as part of the wider Leeds Rhinos sporting club. Awesome mission!
Part of their community outreach includes visiting schools and providing coaching sessions. 'Mini Netball' classes- for junior players aged 5-12 years old- have seen over a 300% growth in participation, with the sessions now being delivered to more than 90 aspiring netballers at four regional venues.
You know Moda is always up for a challenge and some healthy competition... we will be launching Yorkshire's first Corporate Netball Tournament later this year once it is safe to do so. Applications welcome! Fast feet and bounce passes incoming...
See you on court!