Moda to be first on site at Leeds' new neighbourhood – SOYO
SOYO (South of York Road), inspired by the throbbing hearts of the world's best cities, will provide a home for Leeds' contemporary cultural scene.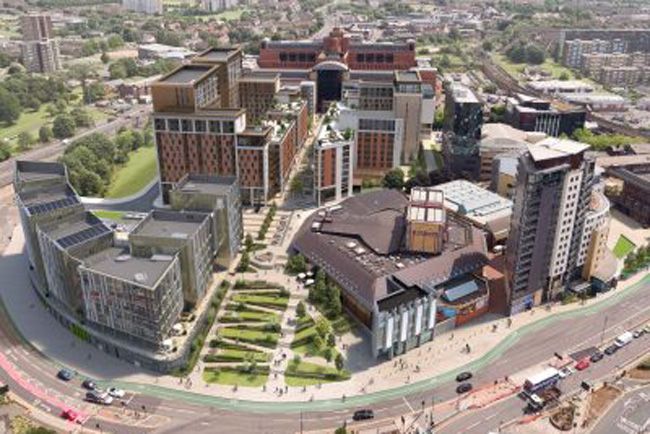 SOYO (SOuth of YOrk Road), inspired by the throbbing hearts of the world's best cities, will provide a home for Leeds' contemporary cultural scene.
For the first time ever, the neighbours that surround the old Quarry Hill site – sometimes known as the 'cultural quarter' – are joining forces to adopt the SOYO identity to establish one of the very best places to live, work and be entertained in Leeds.
Caddick Developments, part of the Wetherby-based, family-run construction and development property giant, Caddick Group, is to transform the six acre Quarry Hill area into a leading cultural hub. Investing £300 million regeneration into the historic site, the plan is to build new spaces, from hotel-style apartments to new bars and restaurants. This will also feature some of the biggest public green spaces inside the city centre which the developer hopes can be used for outdoor theatre and music events, attracting local bands and artists.
The aesthetic laid out by Caddick Developments, the company behind Trinity Leeds and Carnegie Stadium, is inspired by the world's most desirable city living locations. From the inexhaustible grid of New York's East Village, to San Francisco's multifaceted SoMa district, SOYO will be a place where everybody is accepted and laid-back attitudes are encouraged – a place where tech savvy entrepreneurs rub elbows with well-read bohemian creatives.
One of the first buildings to break ground will be an apartment block by Moda Living, who are on a mission to create a completely new way to live focused around the wants and needs of renters today. One of the first of eight UK projects in the pipeline will be in SOYO; 515 rent-only apartments with a range of on-site shared amenities that will rival any other building in the city.
Major cultural institutions are also receiving a makeover as part of the redevelopment programme. The West Yorkshire Playhouse will receive a £14 million facelift with a new entrance facing the city. Work has already started on the new Leeds City College building, which sees a £57 million investment on a brand-new college campus, set to revolutionise the city's digital, creative arts and health sciences provisions. In addition to this, there will be a high quality public space included in the venture sitting alongside the existing BBC building, Northern Ballet and Quarry House, Department of Health.
Caddick Developments has been engaging with neighbours across within the cultural quarter about collaborating more widely under the SOYO brand with a vision of pulling everyone together to help more powerfully define this area of the city centre. The company is also launching a website, newspaper and social channels promoting activities and events.
Robin Hawkes, West Yorkshire Playhouse's Executive Director, said:
"With the launch of SOYO, Caddick is helping strengthen the identity of the city's cultural heart as an exciting and diverse place to be – at a time when the area is set for so many new developments, including the Playhouse's own redevelopment."
Wieke Eringa,
Artistic Director and CEO of Yorkshire Dance, said:
"Yorkshire Dance is delighted to be playing its part in SOYO. This is a tremendously exciting consolidation of the work done by the arts organisations on Quarry Hill to make this a thriving cultural quarter. We're looking forward to ever-closer relationships with our neighbours, old and new."
Gerry Godley, Principal and Managing Director at Leeds College of Music said:
"It's fantastic to see Leeds' cultural quarter be officially brought under one banner – and we're delighted to be a part of it. It can only strengthen the cultural fabric of the city and we're looking forward to working alongside our neighbouring organisations to cement Quarry Hill as THE destination for culture in Leeds."
Suzanne Gallagher, Director of Curriculum at Leeds City College said:
"We're delighted that Caddick's £300m SOYO scheme will shine a spotlight on this area and help us shout about the amazing current of culture we have and the quality of life offered for young people studying here, whatever their background and wherever they are from."
Myles Hartley, Managing Director at Caddick Developments, said:
"Building on the vast cultural heritage of Leeds is something that has been central to the SOYO plan from day one. With the new cultural quarter, we are aiming to give something back to the people of Leeds. Our high quality public realm will provide a much needed pedestrianised area in the city centre for the city's residents to enjoy all year round, which is key in developing a strong community feel. SOYO will provide one the very best places to live, work, enjoy and be entertained in Leeds: an exemplar neighbourhood with unrivalled public space and amenities from which to love life."
Tony Brooks, Managing Director at Moda Living, said:"
Being part of the Quarry Hill masterplan presents a unique opportunity to deliver a Moda development in the cultural heart of Leeds that benefits from existing high-quality occupiers and neighbours. With over 500 professionally managed apartments, our Quarry Hill development will go some way in providing much needed new homes in the city centre that will be crucial to attracting and retaining talent – a key task for England's regional cities."