Next Generation living has landed in Liver-cool
325 homes, state-of-the-art amenities... basically 34 storeys of awesomeness! Liverpool, the Moda life is yours for the taking. Get in the know and join the neighbourhood...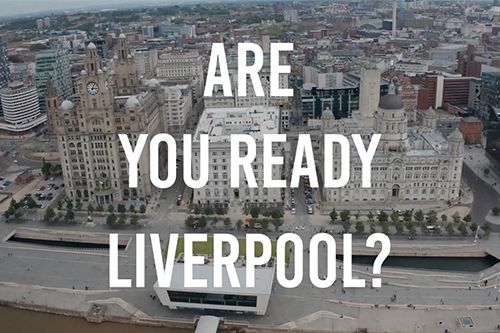 Liverpool's newest neighbourhood
The countdown has started...
We're coming for you
Say hello to Moda, The Lexington. 325 waterfront homes over 34 storeys. Something for every age and life stage - from spacious studio apartments, beautiful 1-beds, through to 2-bed sharers and 3-bedroom family homes.
It gets better...
Next level better. A wealth of state-of-the-art amenities are included within the rent.
There's more...
With panoramic views over the iconic Three Graces and the River Mersey. The 17th floor is home to a private dining room, sky lounge and cinema room – perfect for chilling out over the weekend or watching the sunset with an after-work drink.
Did someone say outdoor space?
With city centre outdoor space proving ever more crucial, the second floor will not disappoint.
A generous roof terrace with an outdoor kitchen bar area, a green – perfect for outdoor screenings and BBQs or relaxing in the sun. A unique gym, housed within a glass box, with a retractable wall extending out on to the garden giving your workout or yoga session an entirely new perspective.
The WFH club
With 85% of the workforce expecting to work from home at least 1-2 days a week indefinitely, residents have full access to co-working spaces and bookable meeting rooms, with coffee stations and super-fast Wi-Fi.
The interiors
Inspired by the famous maritime history of Liverpool docks, once known as the gateway to New York, Moda, The Lexington's name is a nod to 1920's Big Apple.
The art deco inspired design reflects this era of American Independence, with the new car park even featuring a metal engraving of RMS Aquitania, part of Cunard Line that sailed her maiden voyage from Liverpool to New York on 30 May 1914.
With bespoke interiors, each apartment is beautifully designed by renowned interior designer Naomi Cleaver, with the needs of the modern renter in mind.
Fully furnished and complete with top spec tech including low-energy Samsung appliances, pervasive Wi-Fi and discounted Sky Q packages.
Community, it's a vibe
Our neighbourhoods have community at the heart of them with a focus on combating loneliness. Not only will the extensive amenities provide a space for the residents to come together, an extensive events programme - from rooftop yoga to BBQs - will give residents the chance to mix and mingle.
Restrictions didn't stop our Moda, Angel Gardens community connecting (virtually of course). Residents have taken part in a host of virtual events including cookery and cocktail making class with ingredients delivered to their doors. A balcony workout that was streamed over 20,000 times Ending 2020 with Moda's Big Night In with live music streamed into their living rooms.
Is this all talk? We hear you...
Go check our Manchester neighbour Moda, Angel Gardens, for a slice of the action.
Wellness is what we do
Designed with wellbeing at its heart, Moda provides residents virtual access to nutritionists, wellbeing coaches and sleep advisers via the MyModa app, as well as Yoga and HIIT classes.
A partnership with MYNDUP offers subsidised virtual mental health sessions on-demand. Did we mention all staff on site will be Mental Health First Aid trained?
Wellness sensors in every apartment and all communal space, measuring sound, light, temperature, humidity, Co2, light and wind speed will provide real-time data benchmarked against the optimal wellness score for environmental performance and quality of living for residents.
This data will allow Moda's onsite team to adjust building controls to enhance wellbeing.
Questions renters hate to ask, we love to answer
Want to decorate? Go for it!
Got a pet? We can't wait! Your pet is our pet!
What's the deposit? There isn't one, keep your money in your back pocket!
It's time to get excited
You've seen and read what's to come. You know who we are and what we're bringing to Liverpool...
It's time to get ahead of the crowd and get on the list...
Moda, The Lexington: a new way of living, a place to call home!