Pride - June and beyond
Pride month aka 'Gay Christmas' has come to an end but that doesn't mean the love has. Get ready to press play, listen up and hit follow on a bunch of LGBTQIA+ stuff.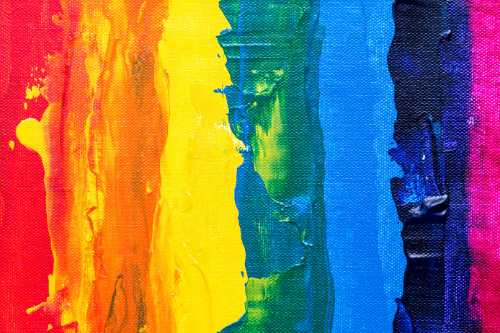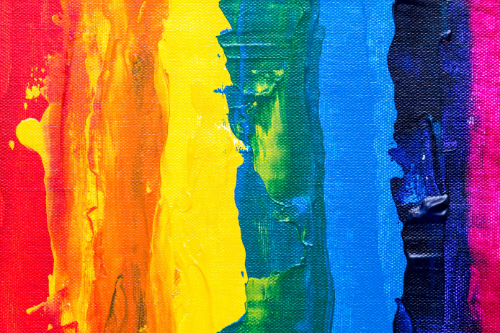 The show went on
June... Pride month aka 'Gay Christmas' is ending, it doesn't mean our love for Pride is.
Pride 2020, looked a lot different this year…
What we do know is, the celebration couldn't have gone unacknowledged. From London to New York, crowds were smaller but just as celebratory. The show (virtually) went on, raising the proverbial roof and everyone still looked the part, obviously!
From live streaming to zoom afterparties, the world pulled together to show support and love connecting with the LGBTQIA+ community. 24 hours of music, virtual Pride festivals with appearances from drag queens, spoken-word artists and comedians, along with a panel talk on maintaining mental health during lockdown.
Pride is a celebration of how far we've come. Also a reminder of how far we still have to go. The support, education and love shouldn't be restricted to the month of June or a march/ parade... love is love.
We've missed getting our glow on in the Moda cities, so have taken this time to remind ourselves about community and fighting for equality.
Doing our bit
Both makeup and clothing brands were flying their allegiance for the LGBTQ+ community with Pride collections and just to name a few... Bella Freud has taken its iconic 1970 Candle and given it a rainbow makeover. Cult dry shampoo brand Batiste, Wrangler, All Saints and Victoria Beckham with 25% of the proceeds going to the Albert Kennedy Trust. If you'd like to donate in support of Pride month, check this list out.
Not that we need a month, but June honours Pride's roots. It collectively reminds everyone of the history and where it started. 2020 marked the 50th anniversary of the Christopher Street Liberation Day March, widely considered to be New York's first
Pride parade and 51 years since the Stonewall Riot, where members of the black LGBTQ+ community stood up against police brutality and oppression.
Pride empowers individuals across the globe to celebrate and raise awareness of the political struggles, that many have faced in the past and continue to do so.
Below is what team Moda have plugged into this Pride month, donning our rainbow colours and educating ourselves. Bringing the joy of Pride into our gaff.
These are the TV shows, documentaries and movies that aren't just for June. Get ready to press play on Netflix, on podcasts and follow on the 'gram…
Vogue Pride series
Vogue commissioned a series of films that explore the umbrella term of "Pride". Six films made by individuals and groups from across the LGBTQIA+ community. Full creative freedom and an open brief… These episodes are touching and inspiring, re-examining the vulnerability and power of this creative community. Start with episode 1.
Netflix
**Queer Eye **
5 Seasons in and, it's an Award-Winning TV Show. Grab some tissues! An all-new "Fab Five" serve up hip tips, emotionally charged makeovers and heartfelt reveals that bring out all the feels. Whether it's a gay pastor or a struggling dog groomer, the "Fab Five" bring their sparkly capes and to the rescue.
The Death and Life of Marsha P
A pillar of the LGBTQ community, The Death and Life of Marsha P. Johnson is simply a must-watch. This thought-provoking film, following the now-iconic Marsha P. Johnson who was found dead in the Hudson River, will stay with you for a long time to come.
The 'P' stands for 'pay it no mind' and a phrase used when asked about gender.
A Secret Love
Get the tissues at the ready. This tender film explores the 70-year-old secret relationship of two women, who lived in public as dear friends for over six decades. After decades of keeping the relationship a secret, the couple decided to come out and celebrate by getting married. Their witty personalities and fun-loving stories, add sensitivity and a true sense of empowerment. If you couldn't tell it's topping our list.
Blue is the Warmest Colour
This film caused many waves when it was released and was awarded the prestigious 'Palme d'Or' at Cannes in 2013, marking a significant turning point in the history of cinema. Two teenage girls fall in (and out) of love in this sexy and intense coming-of-age drama.
Dallas Buyers Club
This film won Matthew McConaughey 'Best Actor Award' and Jared Leto 'Best Supporting Actor' at the 2014 Oscar Academy Awards. A true story of Ron Woodroof, an AIDS patient who smuggles pharmaceutical drugs to distribute to others afflicted with the disease.
**Who doesn't love a podcast? **
Load up your listening devices whilst working, running, or cleaning with queer voices and stories. From chatty to funny to informative, there's one for us all...
Anthems
A collection of 30 original manifestos release every day of June. Expect speeches, stories, poems and rallying cries written and voiced by exceptional LGBTQIA+ contributors. [Grab your earphoneshttps://podcasts.apple.com/gb/podcast/anthems/id1497573270link), you've got some catching up to do.
Food 4 Thot
A podcast not at all about food, they just really liked the pun! This sets the tone straight away... The round-table podcast is a recipe from all their brains - Dennis, Fran, Joseph, Tommy. Talking about everything and anything from 90s R&B, politics to what they're currently reading, nail varnish to hook up stories... Nothing is off the table! Listen and laugh with the 4, because why not?
Shake up your Instagram feed
Inspiring LGBTQ+ that you should be scrolling through in your Insta feed. need
Charlie T Craggs
Who says the 'T is for Try me bitch!'
Award-winning trans activist Charlie Craggs is a radical and
influential voice in the fight for equality. Author of 'To My Trans Sisters'. A powerful book of letters exploring the troubles and triumphs of transitioning and self-acceptance.
She's become a big sister to thousands and founder of 'Nail Transphobia'. A pop-up nail salon, a national campaign that tackles transphobia through education, empowerment and nail art. Charlie has also made it onto the Independent's Rainbow List, named as 40th most influential LGBTI person in the UK.
Alok
A non-conforming writer, performance artist, and fashionist. Alok doesn't hide from having a lot of feelings. What to gain from following... The power of creative self-expression and vulnerability, building a life of purpose and intention despite societal backlash.
Jamie Windust
Writer, editor, speaker and model that you'll want to keep up with.
Founder and editor in chief of magazine FRUITCAKE, focussing on queer excellence. Which also won the 2018 winner at Graduate Fashion Week in London. The magazine is making its mark on the LGBTQIA+ scene.
Not to mention, the makeup skills are out of this world. Go hit follow.