The tallest tower on Liverpool's waterfront
Moda, The Lexington... 34 storeys. 325 homes. The Moda amenities and views you'll never tire of. An iconic new neighbourhood.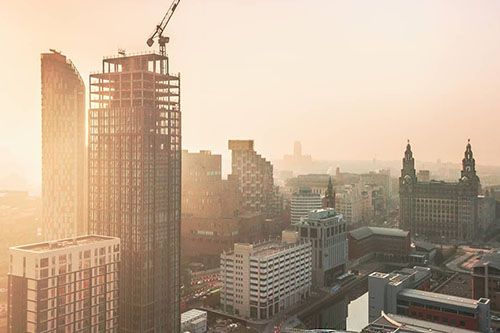 Up, up and here to stay
**Moda, The Lexington... **
A proud Moda moment
We're celebrating the 'topping out' of Moda, The Lexington. Soon to be a place to call home.
The 34-storey tower is complete regarding it's height. The main topic atm - the unrivalled views across Liverpool's UNESCO world heritage site. Also being an integral part of Peel Land and Property's £5 billion Liverpool Waters regeneration project.
Liverpool, are you ready to change your neighbourhood to a Moda one? With the Iconic Grade 1 building, as your neighbour. The Liver Building... the symbol of the city, can't wait to admire the beautiful architecture from inside our Liverpool home (and vice-versa).
A vertical community
This time next year we will be opening the shiny new doors... Moda's second neighbourhood.
Designed by Falconer Chester Hall architects. Moda, The Lexington, got it's name due to Liverpool's historic links with maritime history and New York, will be home to 325 build-to-rent apartments.
Did you know that 'Scouse' derives from the word 'lobscouse' a Norwegian stew made from ship's biscuit and fish frequently eaten by sailors. Ahoy there Moda, The Lexington...
Design Director, Peter Sproule -
"The Lexington is progressing at pace with the first benchmark apartments complete and looking great. A fantastic waterfront location with panoramic views of the Liverpool skyline and The Mersery the level 17 amenity area. The dual aspect private dining room will be a key feature with the back drop of the Liver Building. You'll never live alone..." Not even renting a studio, as we're all about community.
Ranging from studios to three-beds, with all the Moda amenities including shared lounges, flexible workspaces, a cinema room, gym and roof gardens. throw hands in the air
Do we even need to mention the views? Pretty breathtaking. Go see for yourself - apologises, you can't move in yet. wink
Our neighbourhoods about lifestyle. A place to live, work and play. With
Moda, your renting more than just an apartment.
That skyline
Neighbours to the 'Three Graces', which anchors the skyline. Our new neighbourhood has also taken it's place on Liverpool's skyline... the tallest tower on Liverpool's waterfront.
Tony Brooks, Moda MD -
"Topping out at The Lexington is another significant milestone for Moda and being able to see the tower standing tall along the waterfront is a very proud moment for our business. This part of Liverpool is a truly exciting area and, with such substantial investment, Liverpool Waters is becoming an extraordinary part of the city with vibrancy and life all around, it's a pleasure to see that our development will play a role in this.
The Lexington is not just a great building, but with a lifestyle design that is purpose-built with residents in mind, from how they interact with our on-site teams to ensuring they are completely integrated into city life. Following the opening of our flagship neighbourhood, Moda, Angel Gardens in Manchester, we can see how impactful this way of living is and we look forward to bringing this to Liverpool next year."
Liver-cool
Liverpool, a cultural giant...
Stunning architecture, insightful museums and a buzzing live music scene. Quirky pubs and exciting restaurants.
Location is important to Moda...
Good food, good drink and good chat on the doorstep. Contemporary art scene around the corner with Tate, on the Albert Dock.
Think Liverpool, think Fab Four? Think Moda...
The first 'spade hit the ground' in November 2018. 'Topped out' in August 2020.
An iconic skyscraper, a new neighbourhood.
Moda, The Lexington opening 2021...