Together Again
Playful, vibrant and eye-catching art installation has landed in our Leeds home in the SOYO neighbourhood. Think contemporary Christmas cheer!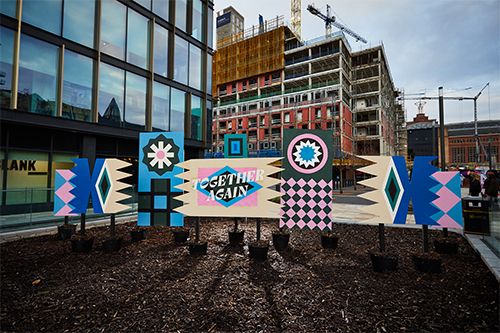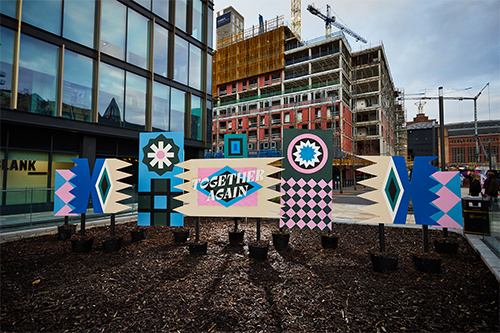 It's all about the art
Urban space and art go hand in hand, and have since cave drawing days.
2020, year of the streets talking...
Powerful, eye-catching and inspiring street art has popped up across the globe...
Art for our heroes, communities and to express sentiment of each city. Messages of hope, resilience and humour with a side of sardonic hilarity.
A contemporary Christmas
New festive display in our home turf, Leeds. Standing proud in Playhouse Square.
The artists have been busy designing, creating and installing this week. The creative forces behind this Christmas craft are designer, painter and muralist Emma Hardaker. Leeds legend and sign painter Jameson Rogan.
Both artists' work is typically graphic in style. For this piece, inspired by traditional wrapping paper patterns. Anyone else see the pulling of a Christmas cracker?
Old traditions, new ideas. We're all about this.
Emma explains "We wanted to create something that was vibrant and eye catching but not overtly Christmassy, using more muted winter colours and subtle shapes and patterns this piece is a contemporary take on the usual Christmas decor we see."
**Together Again **
Christmas tag line... 'Together Again'. The mood of the city, and well the country, to be honest. A sentiment shared by all this Christmas. Beauty amongst chaos.
Commissioned by SOYO Leeds. Sprucing up the space. Adding Christmas cheer.
Bringing light, life and colour to the SOYO neighbourhood and Leeds.
Merry nearly Christmas!