A Moda Guide to Living in Edinburgh
Whether you're cafe hopping, sightseeing, partying or shopping, you'll make great memories in Scotland's capital city. Discover more about what it's like to live in Edinburgh…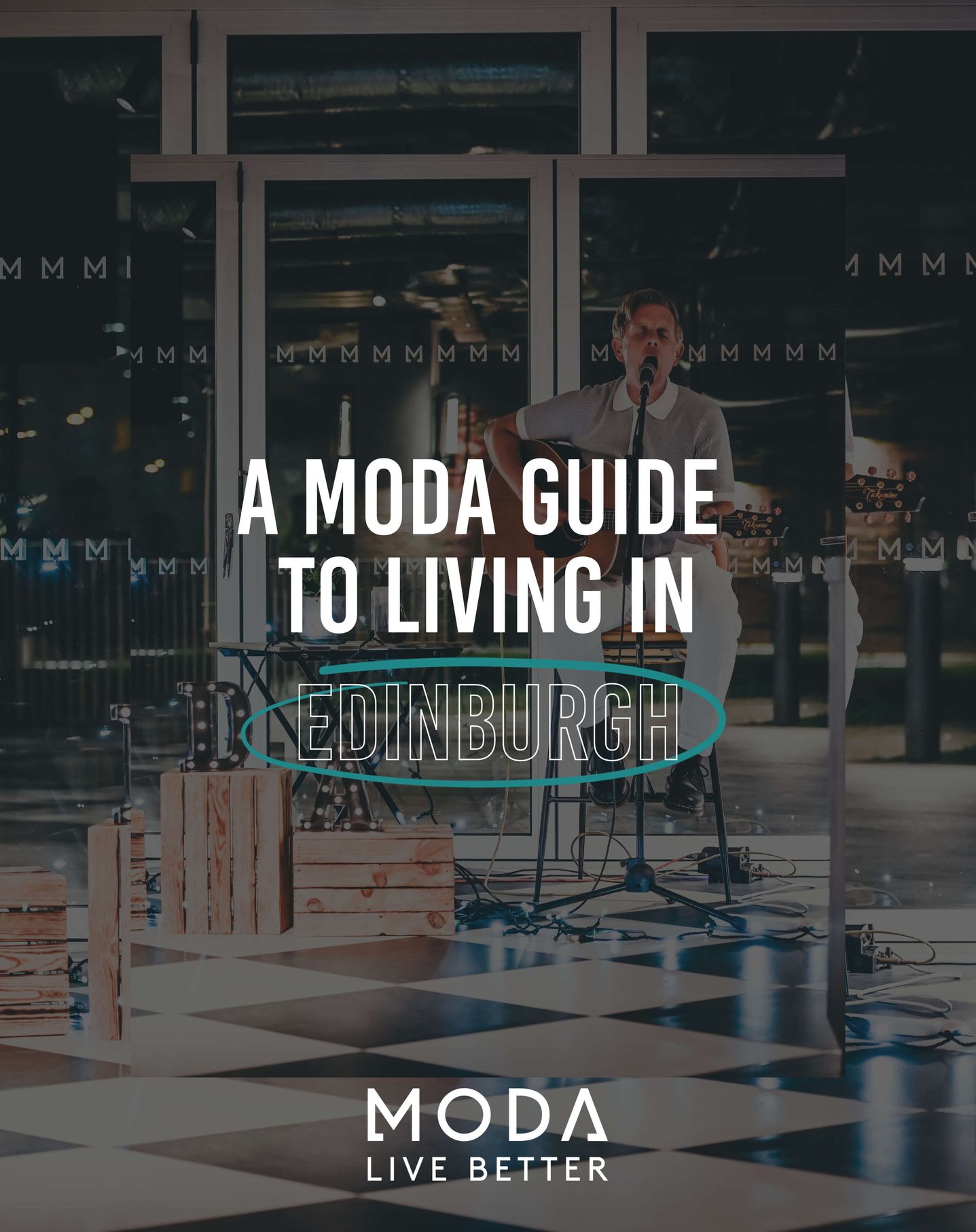 The Moda Guide to Living in Edinburgh
Edinburgh is one of the most enchanting cities to call home, thanks to its cultural heritage, charming architecture and abundance of lush green spaces. Whether you're cafe hopping, sightseeing, partying or shopping, you'll make great memories in Scotland's capital city. Discover more about what it's like to live in Edinburgh…
Let's talk about the costs of Edinburgh
Of course there are various costs to consider when moving somewhere new. Renting an apartment at Moda, The McEwan will put you right in the midst of the action in Edinburgh. Prices for a one-bedroom apartment start at £1,525 per month, with studio, one-bed, two-bed, three-bed and duplex apartments also available. Plus, to really live it up in the city, our residents enjoy regular social events and state-of-the-art amenities, like a cinema room and co-working spaces for those WFH days.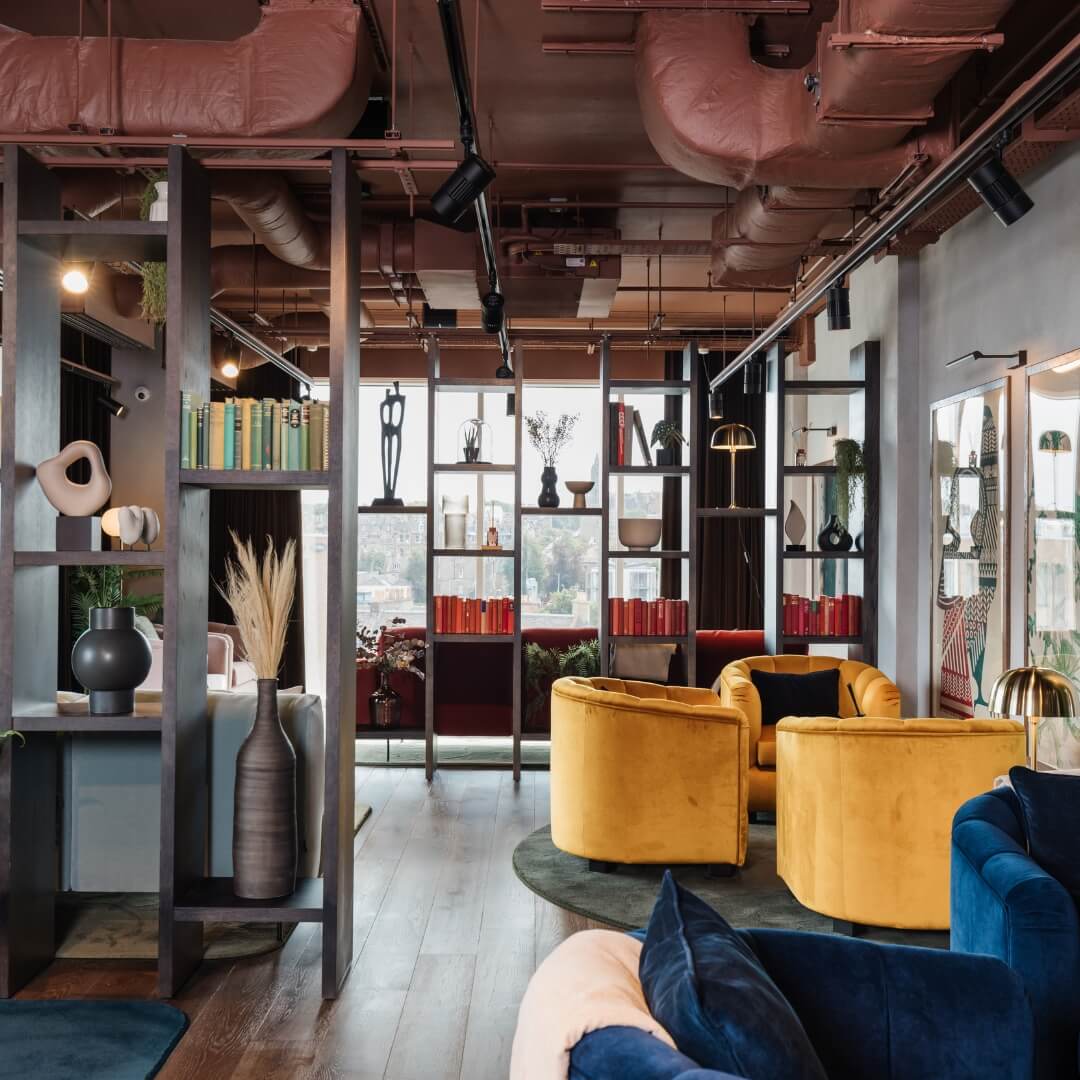 Top things to do
The prime location of Moda, The McEwan, means you'll be perfectly situated to enjoy all of Edinburgh's top attractions. In the heart of Fountainbridge, you'll be right next to Haymarket Station for easy everyday travel.
Edinburgh Castle
A well-preserved piece of the city's fascinating history, Edinburgh Castle is a must-visit. Walking up Castle Rock is a workout that rivals the StairMaster, but it's worth it when you get to the top. Explore the grounds or take a look inside to discover the secrets that lurk within the castle's walls.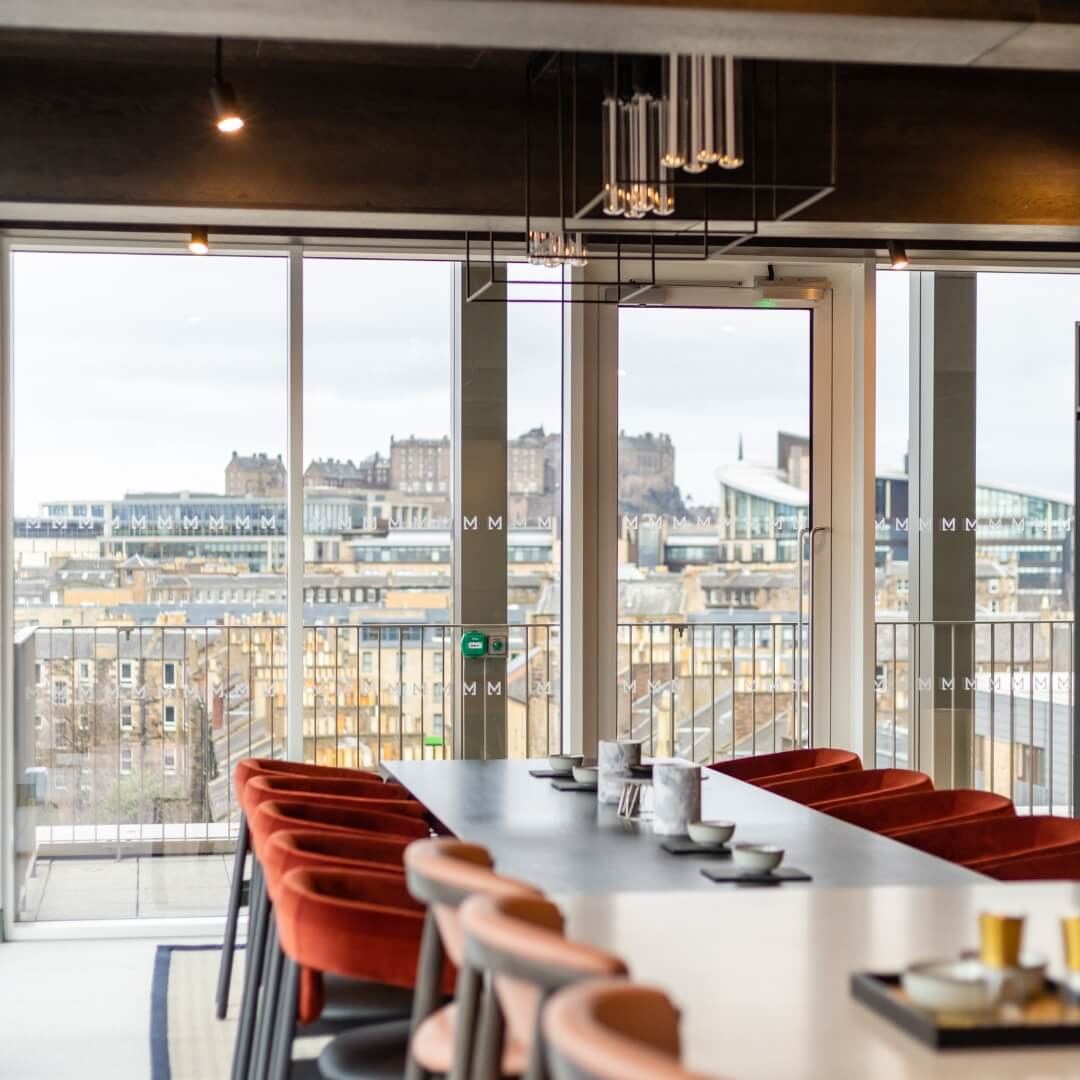 Camera Obscura and World of Illusions
Step into a world where nothing is quite as it seems at Camera Obscura and World of Illusions. Full of interactive exhibitions and curious illusions, the several floors provide hours of fun. There's no greater bonding experience than toppling over in the Vortex Tunnel with your mates.
Edinburgh Dungeon
For something spookier, Edinburgh Dungeon provides jumps, scares and laughs whilst telling the story of Edinburgh's darkest history. Take a walk down the plague-ridden streets, face trial, and get a fright from the live actors in this immersive experience.
The Scotch Whisky Experience
When in Edinburgh, a sip of tipple at The Scotch Whisky Experience never goes amiss. It's every whisky lover's dream venue, offering an insight into the whole distilling and blending process. You'll leave the experience somewhat of a whisky aficionado.
Shopping on Princes Street and Victoria Street
One of the many perks of living in Edinburgh is the city's brilliant shopping locations. Head to Princes Street to browse all your high street favourites, whilst taking in views of the castle. Or in the Old Town, you'll find the iconic Victoria Street, with its colourful shop fronts and charming shops. Make sure you snap a photo or two!
Events in the city
Fun times will be aplenty throughout your time in Edinburgh. Expect legendary events not only at Moda, The McEwan, but slightly further out in the city too…
Edinburgh Festival Fringe
In one of the most exciting celebrations of culture and art in the world, Edinburgh Festival Fringe is an amazing event to be a part of. You'll really feel the creative energy over the three-week event, where dancers, comedians, musicians and more, all take to the stage.
Edinburgh Food Festival
Foodies, rejoice and unite to sample some of Scotland's best food and drink. Over 10 glorious days, Edinburgh Food Festival hosts an epic range of vendors. From loaded nachos and wood-fired pizzas to healthy Hawaiian poké bowls, there really is something for everyone - even the fussy friend in the group. They know who they are!
Edinburgh Winter Festival
Celebrate the most wonderful time of the year in style at Edinburgh Winter Festival. Offering a sleigh-full of Christmas magic, the festival has an ice rink, festive market, tree maze, Santa fun run, a concert and so much more.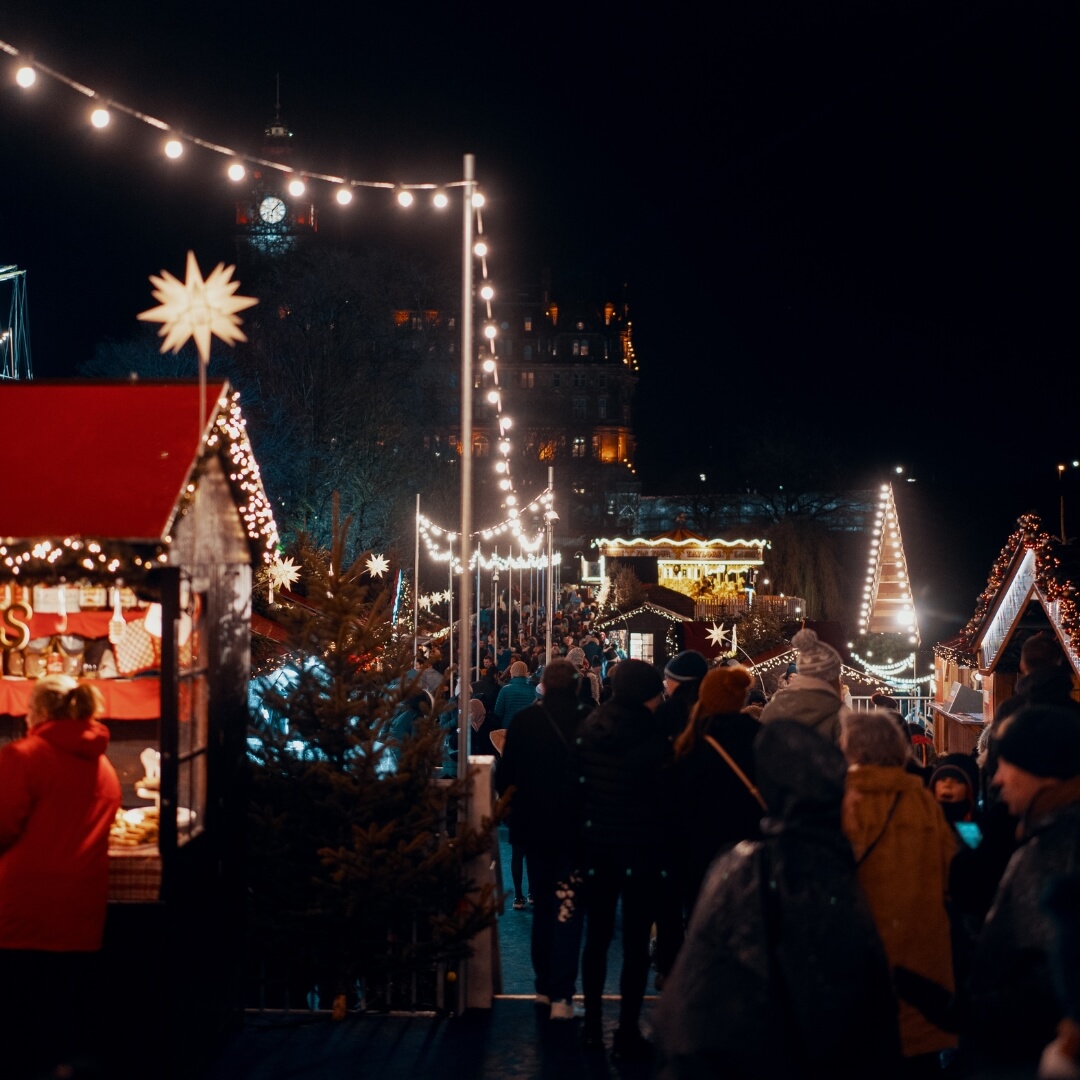 Must-visit restaurants
It's not only haggis and scotch pies that the Scots do well. In Edinburgh, there's a very diverse range of cuisines.
The Lookout by Gardener's Cottage
For a next-level panoramic lookout over Edinburgh, The Lookout by Gardener's Cottage is the place to be. Not only will the views of the city's skyline 'wow' you, but the menu will too. Changing with the seasons, the dishes are curated with the best ingredients from local growers and foragers.
Kanpai
Sushi fans, this one's for you. You'll find all your favourites at the award-winning Japanese restaurant, Kanpai. Enjoy the best nigiri, miso soup, maki, and more at this hidden gem on Grindlay Street.
Archipelago Bakery
Wake up and smell the sourdough at Archipelago Bakery. They serve up freshly baked scones, croissants and baguettes, as well as a mega selection of loose-leaf tea. They offer handmade yeasted loaves and of course, sourdoughs, to buy and take home with you too.
Fortitude
However you like your morning java, Fortitude in Edinburgh has you covered. But fair warning, their morning buns are almost impossible to resist!
Leftfield
Seafood lovers are in for a treat at Leftfield. This cosy neighbourhood bistro is the perfect setting for an evening of socialising, seafood and wine. Their platters are a must-order if you want to try a bit of everything.
Dine
Whether it's drinks in the cocktail lounge or a gourmet dinner experience in the brasserie, Dine in Edinburgh impresses every time. Their Martini Experience is perfect for an extra special occasion, allowing you to channel your inner mixologist and craft your own signature martini.
Tapas3
Enjoy a slice of Spain, without needing your passport, at Tapas3. With authentic tapas, cocktails, and live flamenco performances, they have everything you need for a true Spanish experience.
Mary's Milk Bar
Tuck into some scoops of fresh gelato at the famous Mary's Milk Bar. Made fresh each morning with flavours that change every day, it's a top choice for locals and tourists alike. From Mary's Milk Bar, you can see stunning views of Edinburgh Castle, so it's the perfect place to enjoy your sugar fix.
Standout walking routes
Part of the beauty of Edinburgh is that it's a very walkable city. So when you're not working up a sweat in the 24-hour gym at Moda, The McEwan, you can get your steps in by exploring these places on foot…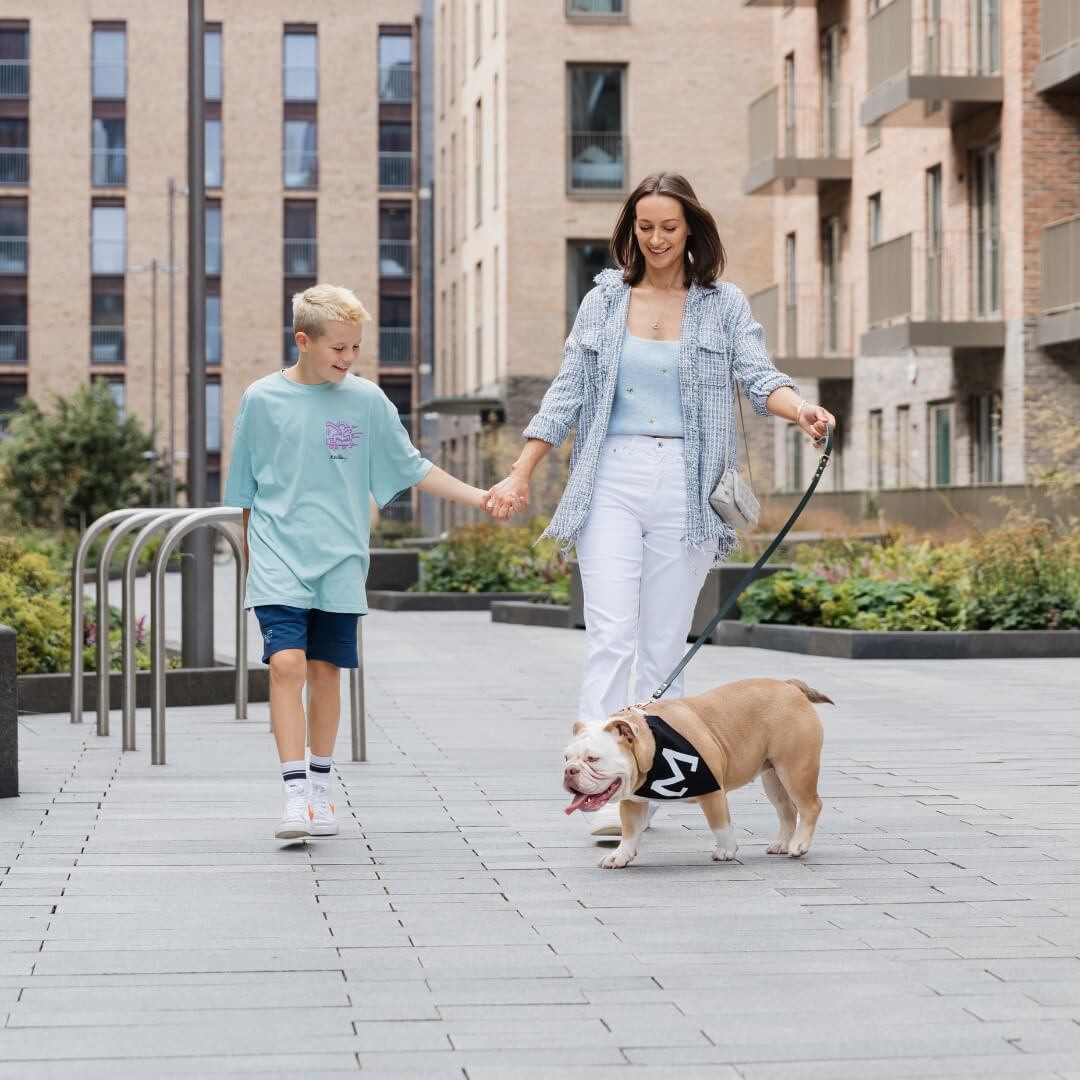 Arthur's Seat
Arthur's Seat is one of the most popular walks in Edinburgh. It's an ancient volcano that sits 251 metres above sea level, offering some of the best views of the city. Pics for the 'gram, pending.
Braid Hills
Another of Edinburgh's highest points is the summit of the Braid Hills, sitting 213 metres above sea level. You definitely won't regret the climb once you see the impressive panoramic views at the top.
Harry Potter Walking Tour
As the inspiration for the wizarding world of Harry Potter, a themed walking tour in Edinburgh is a must for all Potter fans. Marvel at the real-life Diagon Alley and see where Voldemort is buried along the magical Potter Trail.
Dean Village
Just five minutes from Princes Street, you'll find the very picturesque Dean Village. Right by the Water of Leith, it looks like something straight off a postcard. There's really no better place for a stroll on a sunny afternoon.
Living at Moda, The McEwan, you'll be well placed to enjoy everything Edinburgh has to offer. Can you see yourself calling this vibrant city home? Reserve your apartment now.