Meet Moda Ep. 6
Multitasker. Dog mum. Design extraordinaire. All in equal measure, although her pampered pooch might just have the edge… Meet Alice.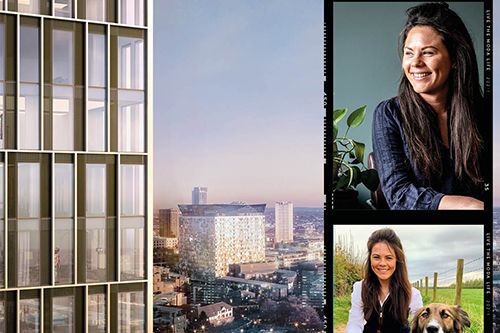 Moda design queen
Multitasker. Dog mum. Design extraordinaire. All in equal measure, although her pampered pooch might just have the edge…
Design Coordinator, sounds fancy. What does that entail?
I work in the design team liaising a lot with the marketing team and the operations team. We make sure that our apartment and amenity designs are in line with the full resident experience, and that it's on brand along with our little design dream team Chris and Pete! I help design the apartment specifications choosing all the finishes, and I also work the with external interior designers to ensure we're all aligned.
You've been working on the plan for Moda, The Mercian gym recently, can you give us some insight into your thinking behind the design?
It's been a really exciting project as it's the first gym I've designed – it's quite different from my past experience with Chelsea town houses!
I've taken lots of inspiration from Birmingham's rich industrial heritage, with lots of timber, brass and metal. We've gone for a dark palette using exposed concrete and black brick to bring back the gritty exposure of the city's history.
I wanted to create a real motivational space for people to power through their workout, and we've included a large BeaverFit multifunctional rig. In case you didn't know, BeaverFit started by using shipping containers to ship out 'fold out gyms' for the army to places like Afghanistan so soldiers could keep fit, and they now create all sorts of different indoor and outdoor rigs which have endless functions. I loved the idea of bringing some of that history into the space at Moda, The Mercian.
It's been a real passion project and I can't wait to see the design come to life in 2022.
It sounds like you've nailed bringing Birmingham's history into the space. Now, let's look forward. What's your vision for the future of Moda?
Bringing people together by design.
Post-covid it's going to be more important than ever to bring communities together and kill loneliness for good. I strongly believe that can be achieved through good design of our buildings – providing really welcoming, comfortable and homely spaces for our residents to enjoy and pull them out of their apartments on evenings and weekends. The fit-out and furniture is key to this; no more stiff chairs - bring on the super deep, fall asleep, snuggle up, put your feet up and grab a glass of wine kind of sofas!
Sounds dreamy. We'll grab the wine, you sort the design?
Q time
What's a meet Moda without a quick fire round...
Q: The last thing you Googled...
A: Daniel Craig age…don't tell my boyfriend.
Q: Chore do you hate doing?
A: Ironing – any takers?
Q: Proudest achievement?
A: Beating Ellie Goulding at beer pong with a trick shot.
Q: Your scent?
A: Cartier Panthere.
Q: Favourite movie?
A: Bridget Jones – all of them without question.
Q: Something you can never over invest in?
A: Baskets, I love a basket, any kind of basket.
Q: What brought you to Moda?
A: The whole concept is leagues above competitors – forward thinking, design-led and full of seriously talented people! Moda is full of driven people and that's the sort of environment I like to work in. I love what we are creating – it's seriously cool and I couldn't imagine myself working on anything that I didn't believe in – I couldn't imagine myself working anywhere else full stop.
Q: If you could explain Moda in one word?
A: Awesome.
**Who's up next? **