Moda, The Mercian - the healthiest place to live in Birmingham...
Securing the highest level of Fitwel recognition, confirms the status... that... Moda, The Mercian is one of Europe's healthiest buildings! Round of applause.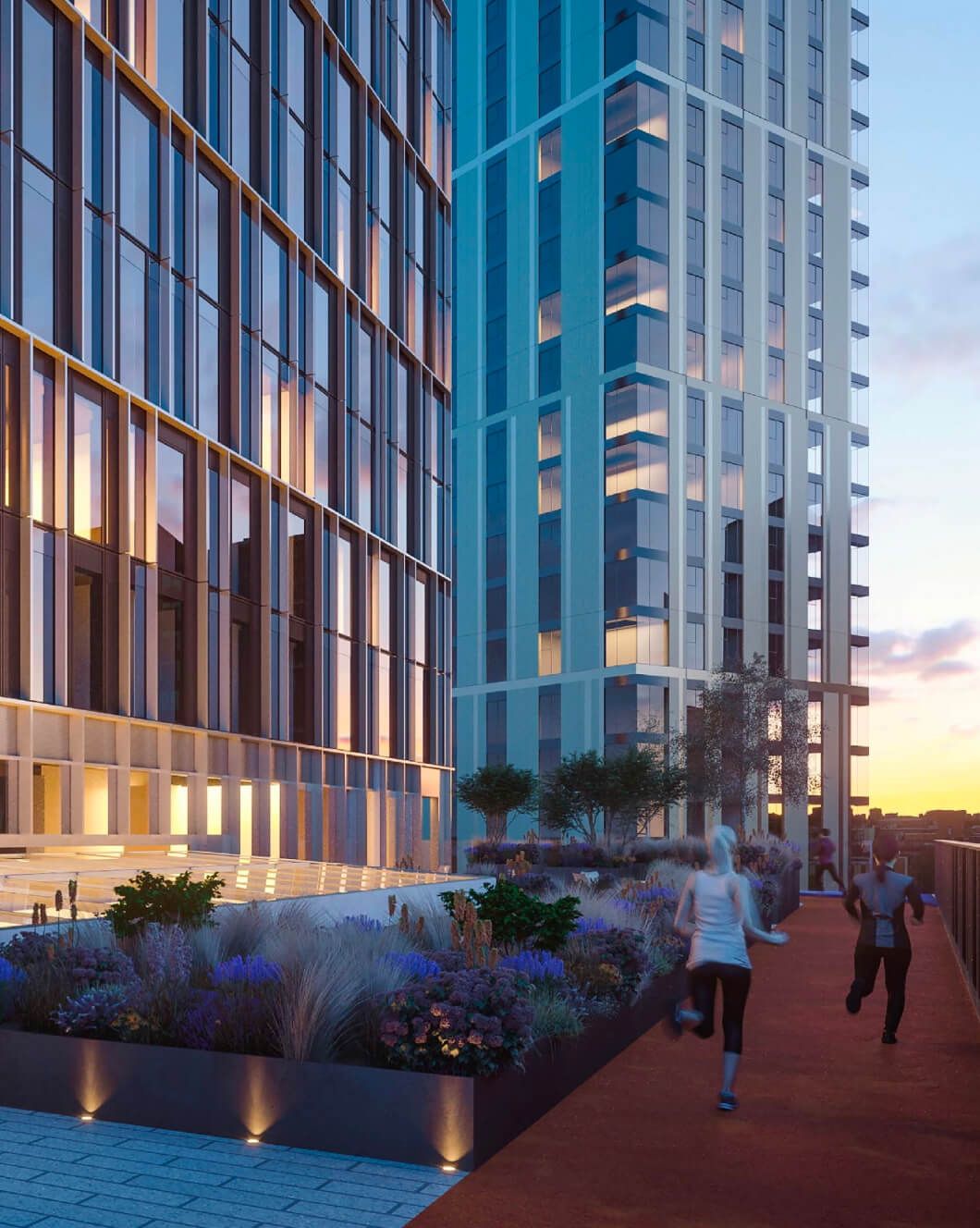 Another three-star Fitwel rating
What's Fitwel we hear you ask?
"Fitwel is the world's leading certification system committed to building health for all®."
If you know Moda, you know health and wellbeing is at the core of all we do.
That's why we've asked the world leaders in healthy buildings to score our new neighbourhood, Moda, The Mercian, to make sure it's living up to our extremely high standards of wellness-focused living. And they liked it so much, they gave it their highest possible rating.
The design, not only of the apartments but the shared spaces. Our values, partners and services. Resident events, the team and the little extras. The outdoor spaces to make moves, enjoy the view and breathe in that air, whatever the weather.
First things first: what do we mean by wellbeing
Quite simply, balance, health, atmosphere, connections, and good vibes!
"Wellbeing can be understood as how people feel and how they function, both on a personal and a social level, and how they evaluate their lives as a whole." - The Mental Health Foundation.
We try to make this as easy as possible for our residents. Let us tell you a little more…
Rent where your wellness is a priority
Amp up your wellness living at Moda, The Mercian... 24/7 residents' gym, 200m rooftop running track, wellbeing workshops, health checks and outdoor spaces. This is renting, but not as you know it.
10 reasons why Moda, The Mercian is considered the healthiest place to live in Birmingham. fist pump in the air
1. 200M running track…
On the rooftop! Where else in the city can you find a 200m running track on a rooftop terrace? Nowhere, that's where! Sunday runday. Quick 5km - morning, lunchtime or evening. Power walk and talk. Relay races, egg and spoon or remember a three-legged race?
Residents can train together with city views or even encourage a bit of healthy competition. wink
2. 24/7 gym
From weights to cardio. Gym selfies to epic views whilst sweating it out...
Equipped with the latest exercise equipment and technology. The neon Moda M - of course! (You know we love a neon sign.) The residents' gym is 24/7, so you can decide when to get that endorphin high.
3. Stress-free studio spaces
Tight for time? Like to sweat it out on your own? Want more of a zen vibe, grab the yoga mat. Bookable studio spaces allow residents to work out at their most convenient time. Need a personal trainer, we've got that covered too.
Residents have access to personal trainers on their doorsteps, with sessions bookable through the MyModa app. There's no excuse really. eye roll
4. Community, Community, Community
It's at the heart of what we do. With an ambition to combat loneliness, Moda creates a community with its residents. The neighbourhood is designed for social interaction.
Making friends as an adult isn't easy... from lounges with panoramic views of the city to co-working spaces, a private dining room to a cinema room. Residents can mix and mingle at supper club, cooking classes, art club, book club or just by grabbing a seat and sitting back.
5. Green space in the centre of Birmingham
Residents can enjoy the great outdoors without leaving the city. (Winning.) Your own little urban oasis. Space to read, meet friends, chill out with your pawpal or just catch that fresh air...
With a stunning rooftop garden featuring communal BBQs, it's the perfect excuse to host with the most, when the weather is on our side.
6. Home is where the pets are
Your pet, is our pet. Life (including our mental health) is so much better with dogs, providing comfort and motivation.
Research shows that pet owners tend to be less lonely, have higher self-esteem, exercise more, be more extroverted and be less fearful about getting close to others than non-owners.
We understand furry friends make barking good roommates. So of course, all Moda developments are pet-friendly, we couldn't have you move without them. There's no hidden costs or extra charges to bring your bestie.
7. A piece of serenity for all residents
Moda, The Mercian offers an environment suitable for all. With soundproof walls residents can enjoy the quiet and calm, even on a bustling Saturday evening in the city.
8. Comfort is key
All apartments feature monitors for humidity, light levels, temperature, and air quality to create optimum comfort for residents.
9. Nailing that work-life balance
Work life balance can mean different things to different people... flexibility and hybrid working. The end goal: incorporating self-care and keeping burnout at bay.
Moda, The Mercian helps residents nail their work-life balance!
Minus the commute, take away WFS (working from the sofa) and say hello to co-working spaces and bookable meeting rooms with Instagrammable backdrops. Yes, that's a tree in the atrium. Yes, the WiFi is throughout the whole neighbourhood.
Lunch breaks - take them on the roof terrace, a quick workout in the gym, or meet a neighbourhood in dining room for a food date.
The transition between work to social is made easy. Get a movie on in the cinema room or check out the resident events after work - you're sorted.
10. Feel good from the inside out
We understand mental health is as important as physical health.
Ensuring all residents wellbeing is a priority... The Mercian family will have access to a range of wellness experts, perks and services, all bookable through the MyModa app. Not to mention the events that will encourage and support a healthy mind, healthy body and healthy soul. Sunrise yoga with a side of juice, anyone?
Status = one Europe's healthiest buildings
Securing the highest level of Fitwel recognition, confirms the status... that... Moda, The Mercian is one of Europe's healthiest buildings.
If you want to say you live in one of Europe's healthiest buildings. You know what to do...
Don't get left behind and get on the list.