Move in and get moving
Next Stop Moda. We've teamed up with TFGM to offer 50 residents one year's free Metrolink travel. Work outside the city? This is the ticket for you!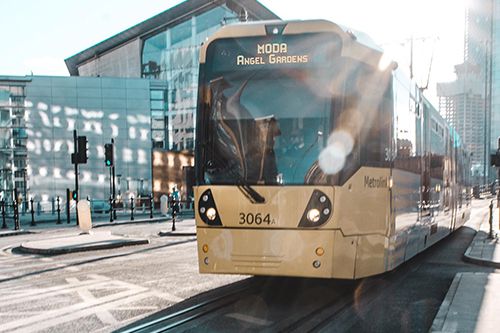 Free Travel for City Renters
Moda partners with TFGM to open up city living...
Another awesome announcement to share with the world. Our ground breaking partnership...
We've teamed up with Transport for Greater Manchester to offer 50 free Metrolink annual travel passes for new sign ups to Moda, Angel Gardens.
Work outside the city? Want to escape at the weekends? This the ticket for you! Opening up city living to those who work outside of the city centre, the initiative also aims to encourage the use of sustainable transport methods.
This partnership launches the city's new 'Move in with Metrolink' initiative. Aimed at reducing the congestion in Manchester, tackling the environmental impact of cars and decreasing the demand for inner-city parking.
Pushing the boundaries of style and service. Now travel... We're the first to offer 50 residents who work outside of zone 1 a free one-year all-zone Metrolink pass!
Getting on the rails has never been so easy. Explore and experience all the places on the Metrolink network.
MyModa app
The key to the building and now the city and beyond. The app allows residents to manage their day to day lives, including paying rent, book classes, instant messaging with the 24-hr concierge team and keeping track of those all-important online deliveries.
It will now have a feed into TFGM's transport news – giving residents live travel updates as they happen. Staying on track has never been easier... TFGM will also offer personal travel planning to all residents.
Positive change
Moda MD, Tony Brooks - "Our ambition is to bring about positive change to renters. To do this we are delivering modern and convenient living spaces where communities combine with services and technology that make our renters' lives easier, healthier and more inspiring. Our partnership with TFGM aims to connect some of the most vibrant communities in Greater Manchester allowing those who live in the city centre to easily commute to the city's out-of-town hubs including Media City and MAG for work or Altrincham and Didsbury for leisure."
Mike Mellor, Head of Commercial Marketing and Estates from TFGM - "TFGM is delighted to welcome Moda as the first developer to take advantage of this exciting new initiative. Manchester is experiencing a boom and we need to introduce people moving into the city to the Metrolink and ultimately all the sustainable transport options on offer. The Property sector in Manchester is embracing the 'Move in with Metrolink' opportunity and we expect to announce more partnerships over the coming months."
The Moda life is in sight...
A new way of living from interior designed apartments, amazing amenities and first-class service. As part of the Moda family, you'll enjoy all the benefits of our exclusive partnerships with global and local brands. Watch this space, as there's more to spill...
Did you hear Pot Kettle Black is moving into Moda, Angel Gardens this Summer? The hottest new neighbourhood. Your neighbourhood. Start your journey with us - explore and get in touch.
The nitty gritty
• Passes are available to qualifying residents on a first come first served basis and are distributed between Angel Garden's blocks.
• One pass per apartment.
• To qualify residents must commute for work outside of Zone 1 of the Greater Manchester tram network, click here for more information on zone 1.
• Passes are available for one year and start from your move in month, with payment of the first rent.
• For full information on TFGM's annual travel passes click here.
• Passes can not be transferred into someone else's name.
• Passes only available to new reservations to Moda, Angel Gardens, 2021.
• Passes only available to those 16 years and over.